Snap! Photography Classes and Camps for Kids in Westchester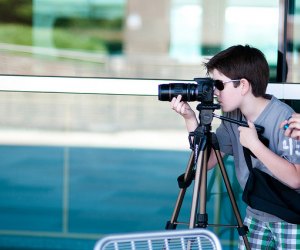 Have a budding Ansel Adams or Annie Leibovitz on your hands? If your kid is always swiping your iPhone to snap some shots or has requested her own DSLR camera, now might be the perfect time to enroll her in a photography class. And Westchester has a whole slew to choose from, whether you're looking for a week-long summer intensive or a Saturday session during the school year.
We've rounded up six places where kids can get behind the lens and learn everything from lighting to editing their shots in Photoshop.
Looking for more classes for kids? Check out what Westchester has to offer in our Classes Guide and follow us on Facebook!
Note that summer camp information for the 2020 season is changing daily. Please click the links to the individual camps below to see which ones are offering programs this year.
The Rye Arts Center - Rye
With classes on everything from coding to cartooning, the Rye Arts Center has lots to offer creative kids and teens—including classes focusing in photography. The center runs photo classes for teens on Wednesdays and Saturdays and, starting in the fall, will expand the program to include photography for kids from 8 years old. Students are introduced to the basics of digital photography, like lighting and composition, so they won't need to have any prior knowledge before getting started. Along with how to use the camera, they'll also learn how to edit their shots in Photoshop—and the photos can be taken on whatever camera they have access to, whether that's a standard point-and-shoot or a DSLR.
Katonah Art Center - Goldens Bridge
Budding photographers in grades 6 through 12 have a number of different options at the Katonah Art Center in Goldens Bridge: There's classes specifically for teens, those that focus solely on shooting with DSLR, and one even one for learning Photoshop and photomontage. Classes are usually offered each session and meet weekly. In the summer, there are camps for kids, tweens and teens that offer week-long digital photography sessions that meet for three hours and are capped at just five students. In the basic digital photography classes, for example, students are taught everything from how to use their specific camera to tackling topics like depth of field. They'll learn how to use Photoshop and are encouraged to print out their shots on the large-format printer at the Center.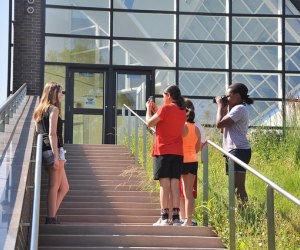 Kids can get hands-on with digital photography at SUNY Purchase in the summer. Photo courtesy of the school.
Purchase College - Purchase
At this two-week long summer camp focused solely on photography, kids in grades 4 through 8 will not only have the chance to learn the basics, but will have also have access to the same equipment used by SUNY Purchase students in the school's Visual Arts Building. Kids do need to have their own camera—being able to turn it off the "automatic" setting is a must—and will spend the day shooting, sharpening their skills and editing and printing their pics. At the end of the session, they'll display their framed works in an exhibition.
Westchester Community College, Center for the Arts - White Plains
Does your tween take hundreds of pics on his iPhone? That's all the equipment he'll need for the summer photography session at Westchester Community College's Center for the Arts in White Plains (though point and shoot cameras and DSLR's are also welcome!). At this summer-long camp—which meets weekly—kids don't need any prior knowledge of photography to get started. While in the class, they'll learn everything from how to use their cameras and set up a shot, to fundamentals like studio lighting and composition, among other topics.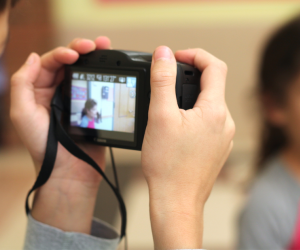 Classes are held year-round at the Digital Arts Experience. Photo courtesy of the venue.
The Digital Arts Experience - White Plains
Classes in digital photography are offered at The Digital Arts Experience in White Plains both during the school year—when they're held once a week—and in the summer. In the summer, teens will become fully immersed in all things photography in a one-week program. While students do need to have a DSLR, the introductory level means they don't need to have any photo experience. They will, however, come away with well-rounded knowledge, including shooting in natural lighting and in the school's indoor photo studio (they've even got a green screen). Summer students will also take a trip to the New York Botanical Garden to shoot on site.
Elena Wolfe Photography - In-Home Instruction
What better way to learn about photography than with one-on-one teaching from a professional photographer? Elena Wolfe, a Katonah-based wedding photographer, offers mentoring sessions for all ages, including kids and teens. She can help both novice and experienced students with everything from using their camera to putting together their portfolios, and works with them to customize what they're looking for. Packages include lots of options, including hour-long Skype sessions, one- and three-month sessions, or even a year-long commitment. Instruction is done at the student's home.
Top photo courtesy of SUNY Purchase.