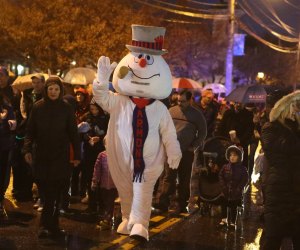 Frosty Day: Free Holiday Fun for Westchester Families
Westchester's Armonk has staked a claim as the home of Frosty the Snowman and celebrates this claim to fame with its annual Frosty Day. Community pride is clearly apparent at this multi-venue, well-attended festivity. We've attended Frosty Day and have the inside scoop to share with our readers.
Read on to learn how to join in Frosty's homecoming and what to expect for your family. For many (many!) more holiday happenings, refer to our Event Calendar and stay up to date by signing up for our newsletters.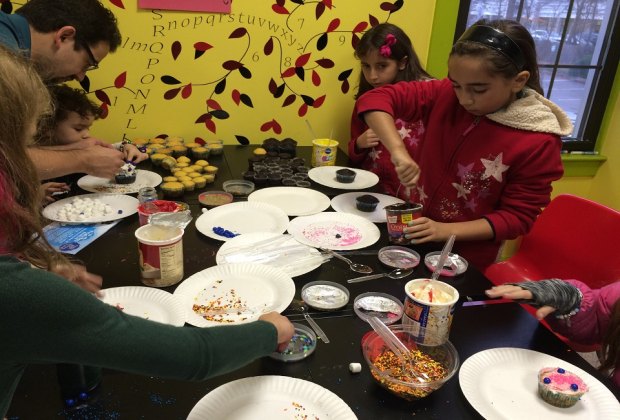 Decorating a holiday cupcake at one of the many Frosty Day activity stations.
The charm of Frosty Day is on par with the charm of Frosty the Snowman itself. Though many communities host tree-lighting events and other holiday kickoffs, the particular appeal of Frosty Day is the widespread participation of the community, with festivity in every nook and cranny of Armonk's downtown. Some 50 venues contribute. Frosty Day is held annually the Sunday after Thanksgiving, springboarding straight from Turkey Day to December holidays.
The beloved song heard annually at holiday time was penned by Walter E. Rollins, who composed the music, and Steve Nelson, the lyricist. Nelson was reportedly a resident of White Plains who was land-hunting in Armonk after World War II. The ensuing pride within Armonk has resulted in the creation of a large-scale event to celebrate this connection, organized by Friends of Frosty Inc., a non-profit group of local volunteers. Held downtown, numerous businesses participate by offering varying activities, giveaways and refreshments, while assorted other offerings are scattered around the streets. A directory is created to help visitors plan their route.
There'll be no shortage of complimentary refreshments—from cookies to hot cocoa and even adult beverages—as well as several activity stations, where kids can make an ornament, decorate a cupcake, get their faces painted, make a scented sachet, pose for a photo opp, craft their own Frosty sign to wave at the parade and more.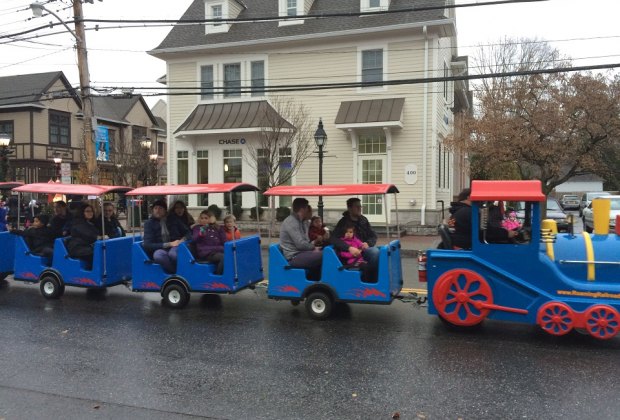 All aboard the Frosty Express Train Ride!
Entertainment at the event is multi-faceted as well. Local musicians will play holiday music, including a fife-and-drum group and an a capella group; Magic Dave will entertain with tricks up his sleeve; and, new this year, visitors can view an ice-carving demonstration. Little ones can hop aboard the Frosty Express Train Ride, and all ages can enjoy horse-and-wagon rides. Be sure to give your wish list to Santa at Town Hall!
Capping off the afternoon's activities is a parade in true Frosty style, which progresses along Main Street onto Bedford Road, past the Village Square cited in the song. Various community groups, local community leaders and others either march or glide in on floats. Upon the grand arrival of Frosty himself, spectators fall in line and continue "down the streets of town" to Wampus Brook Park, where a traditional tree-lighting ceremony is held at the gazebo, along with Christmas and Hanukkah caroling.
The activities will be offered from 12:30 to 3:30pm, followed by the parade at 4:00 and the tree-lighting ceremony immediately after, around 4:30. All activities are free.
Just as Frosty "came to life that day," so does Armonk come to life on Frosty Day!
Top image courtesy of the event organizers. All other images by the author.