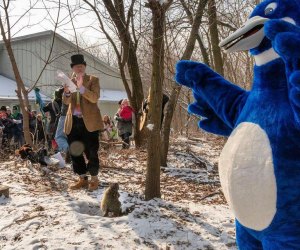 Things to Do in Philly this Weekend and Beyond: Ice Festivals, Painting Fun, Groundhog Day
As January winds down, Philly families gear up for a great weekend ahead. After all, there is much winter fun to be had.
Start off the weekend with something cool, perhaps even below freezing. Families can stroll through downtown Chestnut Hill to admire the works of art made from ice at Chestnut Hill on Ice. Likewise, families can cross the bridge to visit downtown Mt. Holly's Fire & Ice Festival to view the ice sculptures there. Or, bundle up to wander through the beautiful landscape at Longwood Gardens as it launches Winter Wonder.
Curious how long winter will last? Check out the Groundhog Day Family Festival held at John Heinz National Refuge Center. Learn about the animal that is said to predict whether Philadelphians will experience an early spring or six more weeks of winter. Follow up by attending Brandywine Zoo's Virtual Groundhog Day program to be held February 2.
No matter what that groundhog says, savor the best of this time of year by spinning on the ice at a local outdoor rink, swooshing down the slopes on skis, snowboard, or snow tube, or lacing up your boots for a winter hike.
Staying home this weekend? Don't forget to check out Poppins@Home, which is filled with great classes, workshops, and sessions for every kid in the family. Babies can enjoy a music class, and tots can play soccer. Older children can learn how to draw cartoon characters or make science-related magical potions. Keep reading for other great ways to finish out the month.
As COVID circumstances unfold, check directly with a venue website for updates before heading out. Keep your family and others safe by wearing masks and maintaining social distancing measures. If an event appears too crowded, try using the "nearby" search feature on our event calendar to find other exciting options.