The Very Hungry Caterpillar Show
DR2 Theatre

NYC Easter Brunch Cruise 2023
Event Cruises NYC

Easter Fun Cruise with Egg Hunt 2023
Event Cruises NYC
Sign up for our free newsletters.
Dazzling Flip Circus Is Set for New York, New Jersey Tour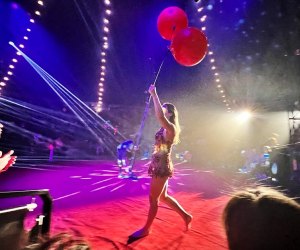 3/10/22
- By
Gwen Tundermann
There's a new circus in town, and it's premiering now at the Garden State Plaza in Paramus, New Jersey. Flip Circus is a brand-new circus experience conceived by the Vazquez brothers of the touring Circus TT Vazquez, features an international cast of entertainers celebrating the great American circus tradition—what's more, the show is heading to Staten Island, Yonkers, Nanuet, Smith Haven on Long Island, and Edison, New Jersey, over the next few months, giving local families plenty of time to catch up to its daring acts. Read on for our full review of this new spectacle.
Subscribe to our newsletters to get stories like this delivered directly to your inbox.



Held under a red-and-white big top, Flip Circus is a spectacle to behold.
Enter a World of Imagination
Walk inside the iconic red-and-white big top and enter a world of imagination. Before taking your seat, stop by the backdrop and capture a photo of the whole family—this is a night you won't want to forget. Next, stop by the concessions for a classic popcorn or cotton candy or enjoy a modern twist on a snow cone, which is served in a glowing cup. There are also vendors walking around selling light-up toys to delight any child.
Entering the main area of the tent, eyes grow wide with childlike wonder as the colorful lights and big red curtain come into view; lift your head to admire the expansive ceiling of the big top. Despite its impressive height, the show has an intimate feeling as each entertainer connects with the audience.
RELATED: Guide to Family-Friendly Shows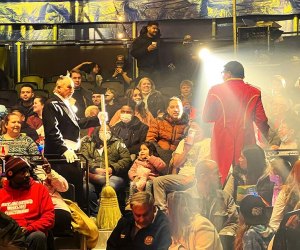 The audience is part of the action during Flip Circus.
The playful clowns interact with guests before the show begins and throughout the evening, and their silly antics set the tone for a fun-filled evening with world-class performers who genuinely love what they do.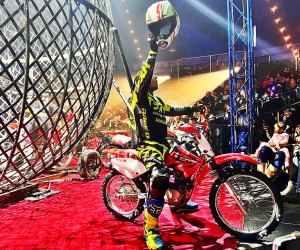 Daring performers push the boundaries of possibility under the big top.
You'll be mesmerized with each act as jugglers, acrobats, aerial artists, magicians, and motorcyclists all push the boundaries of possibility. Just when you think you've seen it all, each entertainer pursues their craft even further, adding another level of difficulty until you are left picking your jaw up off the floor.
The pure athleticism and joy from these talented artists is truly inspiring and captures the hearts of audience members of all ages.
RELATED: Best Off-Broadway Shows for Kids: Affordable Children's Theater in NYC

Circus artists mesmerize the audience at Flip Circus
Your Ticket to Adventure Awaits
Though the center seats provide the best view of the show, every seat offers an up-close view of the action. If you are brave enough, you may even have a chance to be part of the show! Even if you aren't chosen to participate in one of the acts, you'll have a chance to step onto the red carpet to meet some of the circus artists during intermission and following the show.
Tickets start at $25 for children and $50 for adults and are available for purchase online.
Photos by the author