Free and Cheap Summer Camps in San Francisco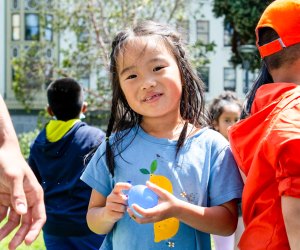 2/12/23
- By
Sandra Lee
Summer camps in San Francisco will be taking place before you know it. That means it's already time for planning and registrations, and those summer camp registrations usually begin in February. It's no secret that summer camps can be costly, especially if you have more than one kiddo, but luckily there are some fantastic free and affordable summer camps in San Francisco and the Bay Area. Trust us when we say you'll be glad to have something booked for the kids to keep them busy and active.
There are options galore for free and affordable summer camps in San Francisco that include sports camps, coding camps, nature camps, STEM camps, and so many more camps to select. These free and affordable summer camp options will let curious minds wander and create summer camp memories that kids will fondly look back on. We've rounded up the best free and cheap summer camps in San Francisco and the Bay Area.
Cost-savvy parents will also love free museum days, and if the little ones are too young to start camp, take them to a baby and toddler class. If you're full steam ahead on summer planning, check out our summer activities guide for San Francisco Bay Area kids.
Free (or Almost Free) Summer Camps in San Francisco

Girls can design games and learn how to code. Photo courtesy of Girls Who Code
Various Locations
Girls Who Code creates opportunities for young girls in a male-dominated tech industry. A free two-week summer program for high school girls to learn fundamental computer science skills, UX design, CS concepts, and game design is even available. Girls, including trans, non-binary, and Cis, can also learn about the tech industry, start building a portfolio and be a part of a supportive, inclusive community. Applications are available now, and no prior computer science experience is needed.
Various Locations
Apple Camp takes place at various Apple stores throughout the Bay Area, where kids aged eight to twelve can learn all sorts of cool stuff, like how to create a comic book on an iPad. These sessions are only a half-hour and are free to attend upon registration. This a great and free interactive activity for kids to do during the summer! Reservations are not yet available, so we recommend subscribing to their email list to receive notifications about Apple Camp registration (while you're at it, subscribe to our newsletter too).
Various Locations
The PAL program offers free summer camps to communities all over the Bay Area to build a bond between cops and kids. Each county has different activities and camps, so take a look at nearby ones to see the selections. San Francisco PAL offers a flag football camp that is super popular in partnership with the SF Parks and Rec and 49er PREP program. Membership to PAL is required and free.
Day Camps for Bay Area Kids
RELATED: The Stunning Redwood Sky Walk: Take Your Family to the Treetops

Nature is your playground. Photo courtesy of Park'n It Day Camp
East Bay Parks and Recreation- Various Locations
From Monday to Friday, 9am-4pm, in various local parks around the East Bay, kids ages five to twelve years old get to explore nature with highly trained camp leaders. Activities include fishing, art projects, hiking, field trips, and learning about park ecology. There is an option for a free week of camp for qualifying schools and nonprofits, and financial aid assistance is available.
Shorebird Park in East Bay
Kids ages five to thirteen are in for a treat at Berkeley Day Camp, a favorite of East Bay parents. Activities range from canoeing, exploring natural habitats, engaging in arts and crafts, and visiting the acclaimed Adventure Playground (a must-visit!). While the camp is from 9am-3:30pm, parents can add a morning or afternoon extension if needed. Camp registration begins in February, and scholarships are available to qualifying families.
RELATED: 25 Top Indoor Playgrounds and Play Spaces in San Francisco

Troop views. Alvarado Day Camp photo courtesy of Girl Scouts of Northern California
Various Locations
The Girl Scouts offer day camps run by volunteers in the various branches throughout the Bay Area. Activities and themes vary, ranging from hiking, cooking, and nature education sewn in during camp. If you want to re-live your Girl Scout days, there is also the option for parents to get involved and help with activities and supervision.
Cheap Summer Camps in San Francisco and the Bay Area
7. Parks and Rec Centers
Various Locations
A popular pick for an affordable summer camp, the programs at local parks and rec centers around the Bay Area are plentiful. With dance, acting, sports, art, and everything in between, the prices are much more reasonable than if you went through a private studio or school. The best part is that kids can jump from camp to camp after the week concludes and explore something else! Keep an eye out for registration dates and consider looking into counties near you to open up more options.
RELATED: 100 Things To Do in San Francisco with Kids Before They Grow Up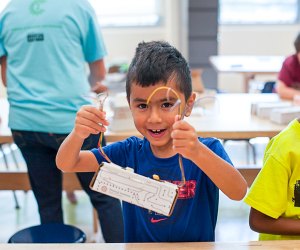 A summer of STEM. Photo courtesy of Camp Invention
Various Locations
This STEM summer camp for kids starts as young as kindergarten. Camp Invention is all about encouraging curious kids to become innovative thinkers. Camp prices begin at reasonable prices compared to many STEM programs throughout the Bay Area. Morning and afternoon experiences introduce the world of STEM, with outdoor play mixed in for fun.
Clayton (Contra Costa)
Forming the bond between nature and children, the summer program at Doodleton Ranch is perfect for kids that like to play outside and learn about nature. Each day includes an art, science, and group game component, so youngsters are engaged in different activities throughout the session. The all-day outdoor fun takes place from 9am-3pm.

Kick summer into high gear. Photo courtesy of i9 Sports
Various Locations
For a low-pressure, fun, and affordable way to let the kids play sports, check out i9. Programs are for kids three to fourteen years old, with sports options like soccer, flag football, volleyball, basketball, baseball, and cheerleading. Coaches are parent volunteers (so if you've wanted to get involved in your kids' sports, this is a great opportunity), with a focus on being a fun experience that fosters the love of sports and team play, with a different sportsmanship value lesson taught every week. Camps are co-ed and very affordable, with sibling and early registration discounts.
Various Locations
With three locations that include Morgan Hill and San Jose, kids can engage in STEM, creativity, sports, and technology with their peers at the Boys and Girls Club of Silicon Valley. The summer enrichment program is a drop-in program that offers financial aid and scholarships for those that qualify, so parents can either pay for the whole summer or drop in for days or weeks when needed.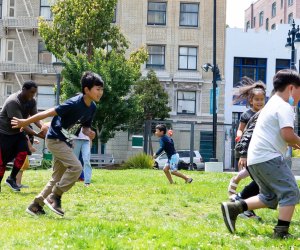 Water balloon fight! City Kids Camp photo courtesy of San Francisco City Impact
San Francisco
San Francisco has so much to explore, and treating the city and everything around it as a giant backyard is what this summer camp program is all about. The camp is structured so kids can learn to make decisions, discover new things, and learn about the world around them, all while making friends and getting plenty of exercise. There are weekly and day camp options.
Various Locations
Summer camp at the Y is a popular pick for Bay Area families. If your child is into space, robots, or acting, there is a camp offered here that is fun, active, and affordable, with many locations throughout the Bay. Financial aid is available for families who qualify and often has discounts for YMCA members.