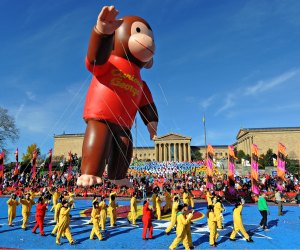 Thanksgiving Weekend Things to Do in Philly: Parades, Turkey Trots, Holiday Fun
After a long November, it is finally Thanksgiving weekend. Philly families can look forward to taking a break from work and school to eat lots of turkey, watch football, and spend family time together. In addition to these traditions, our event calendar provides many ways to make this holiday the best one yet.
Begin by heading to the Parkway for this year's 6abc Thanksgiving Day Parade featuring dancers, musicians, performers, and colorfully decorated floats. Those who want to burn off some extra calories in anticipation of a Thanksgiving feast can run a turkey trot in Downingtown, Glen Mills, Abington, or Philadelphia. After morning fun is through, savor a delicious turkey dinner with family and friends because once those dishes are cleared and the Tupperware is filled with leftovers, the holidays are in full force!
Get into the the spirit of the season by finding seats for a holiday show such as Hedgerow Theatre's A Christmas Carol, Roxey Ballet's Nutcracker, or Walnut Street Theatre's The Gifts of the Magi. Take a twirl on the ice at Blue Cross RiverRink or Rothman Orthopaedics Ice Rink at Dilworth Park. Watch the train displays at Longwood Gardens or Morris Arboretum. Or get a jumpstart on holiday shopping.
From all of us at Mommy Poppins Philadelphia, we are thankful for you and wish you a most wonderful Thanksgiving weekend.