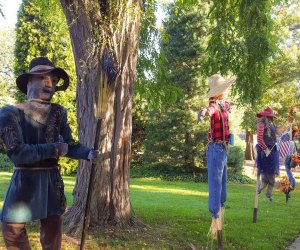 40 Festivals, Fairs, and Carnivals for Philly Families this September
Summer 2019 comes barreling to a halt this month, which can leave Philly families conflicted. How has summer flown by so quickly? We weren't finished with our Summer Bucket Lists! But, despite the fact school and fall activities may be upon us, Philly parents and kids alike can try to keep summer fun alive in the first half of September (technically it's summer until September 21), while welcoming fall towards the end of the month with some amazing festivals, fairs, and carnivals. After all, who doesn't love pumpkin-flavored everything?
There are festivals to surely satisfy your appetite and make your mouth water. There are festivals that celebrate the culture and traditions, whisking you to Brazil, Mexico, Puerto Rico, and Poland all while staying in the Delaware Valley. Other events feature classic carnival amusements and still others prepare for the change in season with scarecrows, pumpkins, and fall fun.
Keep reading for family-friendly events that will help your crew celebrate September.