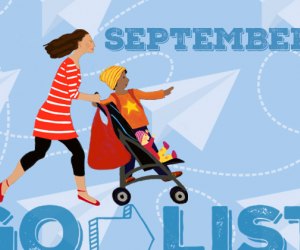 September GoList: Best Things To Do with Philly Kids This Month
Yes, we're back to school, but that definitely doesn't mean the fun of the season has ended. Squeeze the last bit of summer out of September and then turn right around and enjoy the first glimpses of fall. While this month can feel especially busy as you try to get back into the swing of the school year routine, we've made having fun easy for you with our top picks for September all in one place. So round up the family and get going, from free museum admission to the start of Fall activities, an annual Mushroom Festival, a visit from Thomas the Train, and more.
1. Labor Day Celebration - Philadelphia
September 1-2, 2019
As summer comes to a close, visitors to Franklin Square can enjoy one last opportunity of summer fun. Take a ride on the Lightning Bolt Express Train, spin around on the Parx Liberty carousel or play a round of Philly Mini Golf.
2. Polish-American Family Festival and Country Fair - Doylestown
September 1-2 and 7-8, 2019
So much is in store for festival-goers at The National Shrine of Our Lady of Czestochowa. Children can expect midway rides (additional fee for extreme rides), a dunk tank, and live entertainment such as dance ensembles, bands, and major performing artists. In addition be sure to visit the Polish Village which features dancing, music, and special presentations.
3. Philadelphia Honey Festival - various locations
September 6-8, 2019
Sweet liquid gold is the star of the show during The Philadelphia Honey Festival. Throughout the weekend, guests are invited to celebrate at three different locations (Glen Foerd on the Delaware, Wyck Historic Home, and Bartram's Gardens) featuring a variety of activities including a honey tasting, children's carnival, and demonstrations.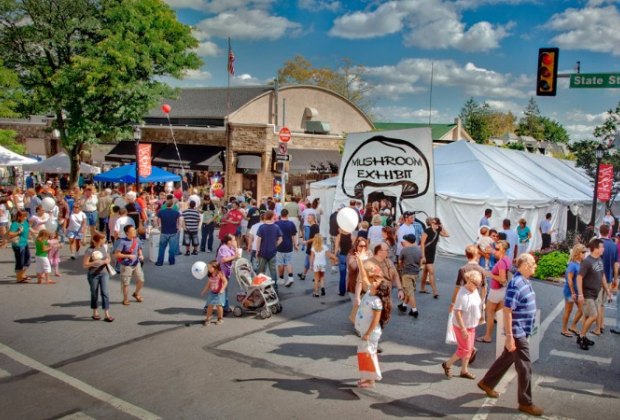 Visit an old-fashioned carnival and check out the children's activities and culinary exhibits at Kennett Square's Mushroom Festival. Photo courtesy of G. Widman for Visit Philadelphia
4. Mushroom Festival- Kennett Square
September 7-8, 2019
Kicking off with a community parade, this festival also includes a carnival. In addition, you'll find plenty of children's activities, culinary exhibits, an antique car show, and tons of vendors.
5. Thomas the Tank Engine & Friends Weekend- Philadelphia
September 7-8, 2019
Morris Arboretum welcomes Thomas and Friends to its railway for the entire weekend. Visitors can enjoy seeing these engines from the Island of Sodor.
6. Scarecrow Festival- Lahaska
September 14-15, 2019
Peddlers Village is bustling with activity this time of year. Stroll the village looking at the creative scarecrows and enjoy food and entertainment all weekend.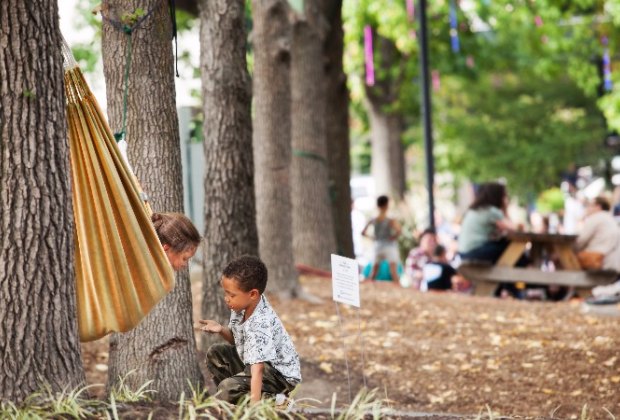 Celebrate fall at Spruce Street Harbor Park with yummy seasonal food and more! Photo courtesy of Chris Kendig for Delaware River Waterfront
7. Arts, Crafts, and Music Festival - Media
September 21-22, 2019
Throughout this September weekend, guests to Linvilla Orchards enjoy live music from local musicians and beautiful crafts created by local artisans. While visiting, be sure to check out all of the children's activities such as hayrides, mazes, and Pumpkinland fun.
8. Bucks County Dragon Boat Festival - Langhorne
September 21, 2019
This festival brings together dragon boat teams from across the tri-state region for a day of friendly competition, cultural demonstrations and family fun with the overarching goal of paddling out hunger in the community.
9. ¡Fiesta!: Celebrating Hispanic Heritage - Philadelphia
September 21, 2019
Please Touch Museum celebrates Hispanic Heritage month with a special fiesta! Visitors can expect to experience this rich culture by exploring new and old traditions through music and dance. Festitivites are included with paid admission.
10. Annual Upper Perkiomen Bird & Wildlife Festival - Green Lane
September 28, 2019
The entire family can enjoy a day of fun and learning at Green Lane Park. Visitors can expect live animal presentations, Monarch Butterfly tagging and releases, kids' games and activities, free hayrides, and live music.
11. Korean Harvest Festival - Philadelphia
September 28, 2019
With paid garden admission, visitors can celebrate traditional and modern Korean culture featuring music, tours, and free samples. Guides are available to lead an exploration of the Korean plants of the Arboretum's 92-acre botanical collection.
Be sure to subscribe to our email newsletter to get our weekly roundups of events delivered to your inbox!