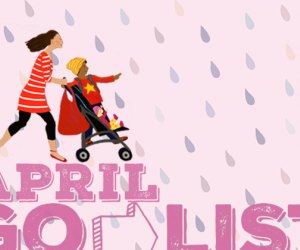 April GoList: Best Things To Do with Philly Kids
1. Pinkalicious: The Musical - Philadelphia, PA
March 29-April 13, 2019
On Saturdays and Sundays, families can head to Walnut Street Theatre to see Pinkalicious Pinkerton find her way out of a very colorful mishap.
2. Treasure Island - Philadelphia, PA
April 5-June 2, 2019
Head to the Arden Theatre, Friday through Sunday each week, for a retelling of the classic, yet exciting pirate's tale.
3. PAW Patrol Live! "Race to the Rescue!" - Philadelphia, PA
April 5-7, 2019
PAW Patrol fans will delight in seeing their favorite characters up close and live in action as they race to save Mayor Goodway. There are six shows over the course of the weekend.
4. Join the Continental Army - Valley Forge, PA
April 6, 2019
Young history buffs will enjoy a chance to experience life for a day as a Continental soldier. Children will receive enlistment papers, be issued dummy wooden muskets, and learn how to march.
5. Japanese Cherry Blossom Festival—Philadelphia, PA
April 13 and 20, 2018
For two Saturdays, families can enjoy Morris Arboretum's beautiful cherry blossom collection and take part in a series of Japanese cultural events. Both days include a Cherry Walk, Kyo Daiko Drumming Crew, and a Japanese Elements Tour.
6. Spring StrEAT Food Festival—Manayunk, PA
April 14, 2019
Dive into some good eats in downtown Manayunk. Festival-goers can expect food trucks, gourmet food vendors, and farm stands too!
7. Easter Promenade—Philadelphia, PA
April 21, 2019
The annual Easter Promenade is ready to entertain the crowds with music, dancing, and the Easter Bunny!
8. The Great Easter Egg Hunt—Rosemont, PA
April 21, 2019
Search for 7,000 eggs at this free, community egg hunt held at Rosemont College. Families can expect opportunities for even the littlest hunters to find eggs.
9. EarthFest—Ambler, PA
April 26, 2019
Temple University's Ambler Campus celebrates Earth Fest, its Earth Day celebration. This outdoor educational experience allows guests the opportunity to learn about the environment and preserving our planet for the future.
10. Philadelphia Science Festival Star Party—Various Locations
April 26, 2019
Local universities, community centers, and wildlife refuges throughout the region host a night of star gazing, with telescopes and star maps available.
11. Brick Fest Live—Oaks, PA
April 27-28, 2019
LEGO fans can fully engage in building fun at the Greater Philadelphia Expo Center. Race a LEGO derby car, pose for pictures with mascots, build floor puzzles and mosaics, and play golf.
12. International Spring Festival—Lansdale, PA
April 27, 2019
Featuring international foods, music, entertainment, a health fair, and a ton of kid-friendly activities.
13. Arbor Day Family Day—Philadelphia, PA
April 27, 2019
Trees are the highlight throughout the garden at Morris Arboretum where children can design a tree house, make a tree map, create a street landscape with trees, and shadow an arborist. Girl Scouts can earn their Gardener badge.
Be sure to subscribe to our email newsletter to see our weekly round-ups of events as well!