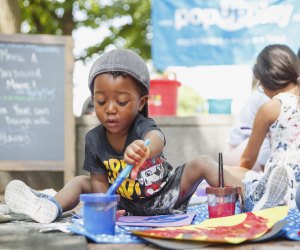 Free Things to Do with Philly Kids in June
The month of June brings sunshine, the smell of freshly mowed grass, blooming gardens, and carefree days now that school has almost ended. As great as that is, the extra free time can also easily empty a Philly parent's wallet. The cost of keeping the kiddos entertained can really add up. But keep those debit cards tucked away! Why? Because there is an enormous amount of free fun to be had throughout the Delaware Valley, and we've got the lowdown.
There are places to cool off, movies to watch under the stars, parks to hike and picnic, and outdoor concerts to dance and sing. On sunny days, kids can explore a 'new to you' destination playground such as Manderach Memorial Playground in Limerick or pack a picnic to visit Fort Mifflin during Freedom Blast. If clouds move in, families can retreat indoors to experience free museum fun at Rodin Museum, The Rosenbach, Franklin Institute, or American Swedish Museum. Escape to air-conditioned malls for free programming to keep little ones entertained such as Kids' MusicRound at Oxford Valley Mall.
No matter the weather, there are plenty of great ways to have fun without spending a dime!