Lights and Culture: The Chinese Lantern Festival at Franklin Square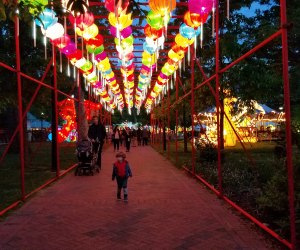 Bright lights, Chinese culture, and a beloved Philly park? The Chinese Lantern Festival at Franklin Square has all of these things and more. This festival is not just for kids and is sure to be fun for the whole family. Treat the kids to a night out past their bedtime with milkshakes, shows, and, of course, lights!

A 200-foot-long silk dragon sculpture. Photo courtesy of Jeff Fuosco for Historic Philadelphia Inc. and Tianyu.
We got a sneak peek of the festival just before it opened. My toddler seemed unsure of what to expect, but was immediately interested in the colorful lanterns and exhibits that fill the park- and it wasn't even dark yet! My son's favorite was the 200-foot-long dragon pictured above- even though it was "a little bit scary."
If you're wondering, yes, the park is still open to the public daily until 5 PM with mini golf and carousel rides. Last entry for tickets for mini golf is 4:15 and the last ticket for carousel rides is 4:30 PM, so if you're interested in checking out the park during the day, keep that in mind. The playground is open until 9 PM as usual. Guests of the festival can get a hand stamp and use the main entrance, while others will need to use the 7th Street entrance.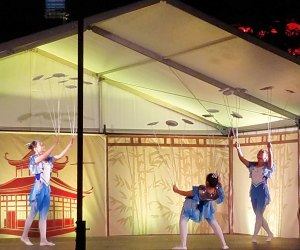 We couldn't believe how many plates these women could spin and the amazing positions they could get in while doing so!
The festival also includes shows including contortion, acrobatics, art, and some pretty amazing plate spinning. These happen at 6:30 and 8 PM all week long as well as an additional performance at 10 PM on Friday and Saturday evenings. There is no seating for the shows, so you might want to get a good spot before it starts. There's also a row of traditional Chinese craft artisans where you can see the amazing process of making sugar art, get name painting art, and more.
As far as strollers go, there are some places where you'll want to walk on the grass to get a closer look at the lanterns, and the shows are located in a grassy area. We didn't have a problem pushing our heavy double stroller in these areas, but if you prefer to travel lighter, you might want to skip it. The park isn't huge, so a toddler should easily be able to walk around and view everything. There are areas to sit if you need a break.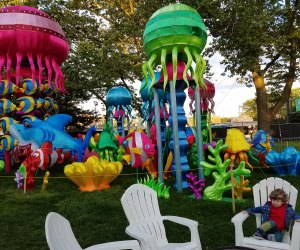 The Dragon Beer Garden is a great place to sit and relax on a nice spring/summer evening before the lights go on.
The park is closed off to the public for this ticketed event, so make sure you buy tickets in advance. For a bite to eat while you're there, the park's Square Burger stays open for the festival with burgers, dogs, and really yummy milkshakes. If mom and dad are looking for a little something more, the Dragon Beer Garden features lawn chairs, draft beers, specialty cocktails, chicken wings, pork ribs, and veggie skewers. Alcohol has to stay in the beer garden (which opens at 6 PM every night), so if you're interested in grabbing a drink, you might want to get there before the lights go on so you have time to sit and relax before you walk around. The festival is also running a special where you can take your ticket to any restaurant with a panda on the window (a full list is available online) to receive a discount. This promotion includes a couple of rolled ice cream shops, too!
Street parking can be really tricky, especially on weekends. If you're stubborn like me and refuse to park in a garage, leave yourself plenty of time to park. Otherwise, Franklin Square recommends parking at the PPA AutoPark at Independence Mall. If you show your festival ticket, you even get a discount. The garage is located between 5th and 6th and Market and Arch Streets directly under Independence Visitor Center.
The Chinese Lantern Festival is located in Franklin Square at 200 6th Street, Philadelphia. The festival begins at 6 PM every night and ends at 10 PM Sunday-Thursday and 11 PM Fridays and Saturdays.
All photos courtesy of the author except where otherwise noted.