Writing Classes, Camps, and Workshops for Philly Teens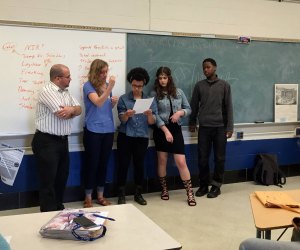 Writing, like reading, is one of those skills that can take someone far in life, but it needs to be developed. If a teen already has an interest in writing, nurturing that curiousity might even turn it into a passion, like acting. Check out one of these organizations, schools, or programs to further your child's love of writing.
Mighty Writers
Reading and writing often go hand in hand at Mighty Writers. Workshops, groups, book clubs, and classes meet at a variety of times and places in North, West, and South Philadelphia. With sessions on everything from blogging to vision boards, and workshops on specific topics like The Social Life of Stuff, a six week workshop on writing about the built environment and inanimate objects, there is much to be learned here. The best part is that it's free.
Spells Writing Lab
A nonprofit organization that mostly provides in-classroom writing programs, Spells also hosts out-of-school writing workshops throughout the city. One such progam is a week-long summer camp, Insta-sodes: Short-Burst Storytelling with Social Cinema, that will have teens writing and producing their own web series.
Philadelphia Writing Project
A Program of Penn Graduate School of Education, the Philadelphia Writing Project offers three programs geared toward students in kindergarten through twelfth grade. Scholastic Art and Writing Awards is a partner organization that recognizes exceptional writers with continuing support such as scholarship opportunites. Friday Night Writes is a Fall program for students in grades 7-12 that provides writing coaches to work with them on submissions to the Scholastic Art and Writing Awards, as well as college scholarships and admission essays. Project Write is a summer program for students who wish to write, explore history, and develop digital and artistic talent.
Philly Youth Poetry Movement
An organization that provides a safe space for Philadelphia teens to discover the power of their voices through spoken word and literary expression, Philly Youth Poetry Movement created The Haven, a space that offers workshops, mentors, coaches, discussions, and open mics so anyone can create, experiment, learn, and grow as writers and performers. Workshops are in four week blocks. All programs are free.
Philadelphia Young Playwrights
Writing and performing theatrical productions is the goal of Philadelphia Young Playwrights. To this end, it hosts a variety of festivals, programs, classes, and special summer camps in partnership with the Arden Theater Company. Young writers will rejoice in seeing their words performed on stage.
Philadelphia Stories
For teens who love to write, but haven't crossed into trying to get their writing published, the respectable literary journal Philadelphia Stories launched Philadelphia Stories Jr. and Philadelphia Stories Teen. These annual issues feature stories, essays, poems, and art by local writers age 12 and under and 13-18 respectively.
Photo courtesy of Philadelphia Young Playwrights' Facebook.