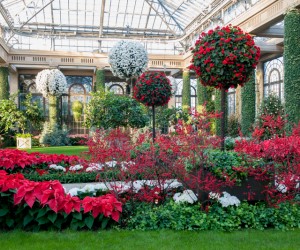 What's Open on Christmas Day in Philly: 14 Things To Do with Kids
On Christmas Day after the presents are all unwrapped and only crumbs are left in the cookie tin, you may be thinking it's time to get out of the house. Whether the sugar rush is kicking in or you just don't want to deal with the mess, there are quite a few places open on December 25th to take the kids.
We found options for families that don't celebrate the holiday as well as ideas for enjoying the Christmas spirit. Either way, we have a list of ideas to get out and about and spend a day with the kids in the Philadelphia area. Bonus, when trekking in the city on Christmas Day, no parking meters are enforced! Continue reading for our selections.
Local Movie Theaters—​Your town
Movies are an obvious choice when it comes to things to do on Christmas Day. Some great family options include Jumanji: The Next Level or Farmageddon: A Shaun the Sheep Movie. Of course, Star Wars fans greatly anticipate the new film, Star Wars: The Rise of Skywalker and theater enthusiasts await Cats, the movie based on Andrew Lloyd Weber's famous Broadway musical.
Being [ ] at Christmas—​Philadelphia, PA
The National Museum of Jewish American History hosts its annual family event, Being [ ] at Christmas. Kids are invited to participate in engaging activities such as crafts, face painting, comedy entertainment, and a special story time.
Residential Light Displays—​Your town
Drive around town to see some amazing light displays created by homeowners and neighborhoods throughout the Philly area.
Crayola Factory—​Easton, PA
Learn how crayons are made at the Crayola Factory. Then, create your own personal work of art from 12 Noon-6 PM.
Christmas Underwater at Adventure Aquarium—​Camden, NJ
Visit the hippos, penguins, sharks, and other sea creatures at Adventure Aquarium.
Holiday Light Show—​Yardley, PA
Shady Brook Farm's drive through Holiday Light Show is open from 5 PM–10 PM. Over 3 million lights make up this dazzling remarkable Bucks County display.
Blue Cross RiverRink and Dilworth Park—​Philadelphia, PA
Bring the kiddos ice skating at an outdoor rink. Both Blue Cross RiverRink and Dilworth Park are open with limited hours.
Deck the Hall Light Show- Philadelphia, PA
Wander over to City Hall to view the spectacular light display which runs every 30 minutes.
A Longwood Christmas—​Kennett Square, PA
Tour Longwood Gardens' beautiful Christmas displays which include an Open Air Theatre Fountain Show, Garden Railway, Organ Sing-a-longs, and a half-million decorative lights.
Koziar's Christmas Village—​Bernville, PA
Take a ride to Kozier's Christmas Village to see the spectacular light attraction, train displays, and Winter Wonderland showcase.
Festival of Lights—​Media, PA
From 5:30 PM until 9:30 PM, visitors to Rose Tree Park can stroll through the glimmering walkways to view the peaceful beauty of this annual light display.
Washington Crossing the Delaware—​Washington Crossing, PA
Witness the reenactment of George Washington's historic crossing of the Delaware River on Christmas Day, 1776 at Washington Crossing Historic Park.
Herr's Snack Factory Christmas Lights—​Nottingham, PA
Load up the car and drive through the Herr's Snack Factory property to view the twinkling lights on display from dusk until dawn.
An Area Restaurant—​Your town
Treat the family to dinner out at one of these many family-friendly establishments in the Delaware Valley.
Photo courtesy of Longwood Gardens. Updated December 2019