Adaptive Water Sports for NYC Kids with Special Needs: Swimming, Boating, Water-skiing & More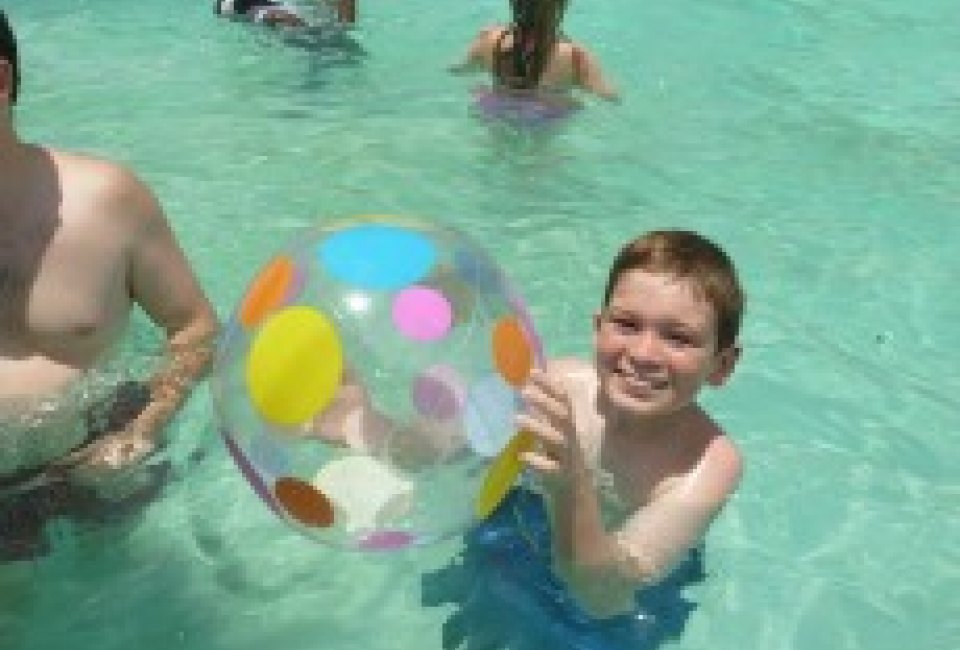 6/17/14
- By
Michaela
For NYC kids, one of the greatest pleasures of summer is getting all wet in pools, at beaches and on boats. However, for children with special needs like my son, water play can spark a variety of anxieties and sensory issues.

Happily, the tri-state area is home to a number of adaptive water sports programs specifically tailored to children with autism and other special needs. So they can learn to swim, sail and even water-ski in a supportive and understanding environment. Bonus: Many of these special needs water play programs are FREE or inexpensive.
NYC Parks Adapted Aquatics – Citywide
Various locations, visit the website for details.
718-760-6969, ext. 0
In the past we've written about the NYC Parks Department's FREE group Learn to Swim programs, which require entering a lottery. However, the org's Adapted Aquatics program is different in a few key ways. Over the past five years, my son with special needs has never been turned away nor had to participate in a lottery for the one-on-one or semiprivate FREE lessons he has received each summer at outdoor public pools. I saw him go from frantically screaming about getting into the water to dipping his face in while up to his shoulders in the pool—voluntarily! And without me having to spend a month's rent on lessons, either. (We particularly enjoyed his experience at the Highbridge Pool in Washington Heights, and the enormous wading pool made it fun for me to stay afterward with all of my kids.) Just like the Learn to Swim program, Adapted Aquatics are also offered off-season at a handful of NYC rec centers with indoor pools for FREE. You can find the most up-to-date information on the Parks Department's Adapted Aquatics page. To register, call the Citywide Aquatics office at 718-760-6969 ext. 0.

Row New York Para-rowing – Flushing
Flushing Meadows Corona Park, Queens
718-433-3075
In addition to running boating programs in NYC public schools and summer camps, Row New York offers para-rowing for individuals with physical or intellectual disabilities. There are actually three para-rowing programs: one for middle school students, a recreational program and a competitive team. All of them are FREE and take place on Meadow Lake in Queens' Flushing Meadows Corona Park. To find out which option is the best fit for your child with special needs, email Jennie Trayes at jennie@rownewyork.org or call 718-433-3075.

Best Day Foundation – New Jersey
Various locations, visit the website for details.
1-800-309-2815
This wonderful nonprofit hosts FREE seasonal sports days for special needs families. In summer, the org's Best Day at the Beach events feature all kinds of adaptive water fun, like a beach obstacle course, tandem surfing, body-boarding, kayaking, outrigger canoeing, a Coast Guard helicopter rescue demo, and a closing ceremony where every child gets a goodie bag and a medal. Water, snacks and a hot lunch are provided for volunteers and participants (though you should bring your own meals if your child has food allergies). Best Day at the Beach events take place at three New Jersey locations: Brick Township, Sea Girt and Long Branch. Register online as soon as possible since spots fill up fast, often months in advance.

Leaps of Faith Adaptive Water-skiers – Sandy Hook, Connecticut
203-426-0666
This org offers water-skiing and other water sports for children with a variety of special needs, including visual, physical and intellectual challenges. In addition to weekend water-skiing clinics, there's Soaring with the Eagles, a FREE week-long camp for visually impaired children up to age 17, and Freedom Splash, a FREE one-day event that introduces children with special needs to water-skiing, wake-boarding, kayaking, swimming and tubing. For more information or to register for any of these events, visit the website or contact Joel Zeisler at 203-426-0666 or joel@leapsoffaithwaterskiers.com.

Special Olympics Swimming – Citywide
212-661-3963
Although this org is wrapping up its current season, it's never to early to plan ahead for next year. For serious swimmers with intellectual disabilities, there are multiple teams around the five boroughs that meet and train with a Special Olympics coach for the State Games in Buffalo in June. For information and to see if your child qualifies, contact David Durandisse at 212-661-3963, ext. 216 or ddurandisse@nyso.org.

Cross Island YMCA – Bellerose, Queens
While most NYC YMCAs offer some special needs programs, the Cross Island YMCA seems to have a bunch, including Adaptive Aquatics. Geared toward children with special needs ages 5 to 15, these private half-hour lessons are taught by specially trained staff and personalized to suit the student. While these lessons are not free like the others mentioned, they are much less expensive than most private special needs swim programs. The cost is approximately $100 for an eight-week session and even less for members. (Note: There is currently a wait list but it's worth getting your name on it.) The Cross Island YMCA also offers Special Olympics training plus several other classes aimed at people with disabilities. For more information contact Jean Dattner at 718-551-9325.

Find out about other great programs for children with special needs in our Special Needs Guide.
Click Here to Sign Up!
i