The Adventures of Tortoise & Hare The Next Generation
The Sheen Center

The Very Hungry Caterpillar Show
DR2 Theatre

NYC Easter Brunch Cruise 2023
Event Cruises NYC
Sign up for our free newsletters.
Another New York Beach: The Beaches of Staten Island, That Is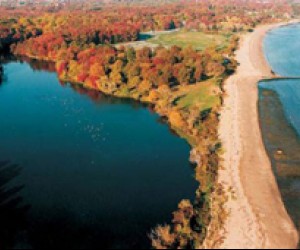 6/2/09
- By
charlotte
With all the tall buildings, noise and traffic, it is easy to forget that New York is really just made up of a bunch of islands, with swimable beaches all around. When you think bout Staten Island, your first thought may not be "beach", but Staten Island is home to many beaches, which are close-by, reachable by public transportation, and free ways to escape the buildings, fast-walkers and chaos of everyday life, without heading to the Garden State. Find out some of the best Staten Island Beaches below.


The Beach at Wolfe's Pond Park
420 Cornelia Ave, 10312
718-984-8266
Wolfe's Pond Park offers plenty of outdoor activities for families from hiking trails and playgrounds to inline skating and various sports courts, and it is also home to some Staten Island marine and wild life and a nice and very clean beach area.
The brant, Laughing gull, Herring gull and Gray gull call Wolfe's Pond home, as do blue mussels, horseshoe crabs, Quahog clams (which make for great shell collecting). It also has a fishing pier and convenient barbecuing areas. During the summer, lifeguards are on duty from 10am-6pm.
South and Midland Beaches
Father Capadanno Blvd
718-816-6804
718-987-0709
South Beach has a great boardwalk for biking, walking and eating ice cream, and the beach is pretty decent. There have been some unwanted items found in the sand, but it does have a lovely 835 foot-long fishing pier (also great for walks) and islanders do venture out into the water. The area is also home to a playground, bocce courts, ballfields, upscale restaurants and picnic areas.
Midland Beach (about half a mile away from South Beach, on the same stretch of shore) has the Sea Turtle Fountain, complete with sprinklers that kids do get a kick out of. There's a playground here too, shuffleboard courts, skateboard park and handball courts. Back to the Beach Celebrations go on during the summer, with sand castle building and contests, live music, outdoor movies and fireworks, which are popular events for locals.
Great Kills Park and Beach (at Gateway National Recreation Area)
Buffalo St at Hylan Blvd.
718-980-6130
Great Kills has a pretty beach with nature trails, a model airplane field, biking, fishing, picnicking and a multi-use wheelchair accessible path that extends to the Beach Center. It is a popular choice for outdoor family activities and can get a little crowded on the pathway. It also closes at dusk and lifeguards are on duty from 10am-5:45pm, seasonally. Do take some extra bug spray, as heavy woods surround some areas and the path is not lit, so bugs tend to feast near sun down.
For more information on special events, lifeguard hours, driving and public transportation directions, and tides and activities, visit
www.nycgovparks.org
.