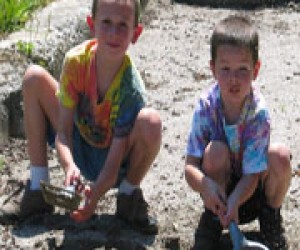 Mostly Free & Fun Things To Do With NJ Kids This Weekend July 14-15: Lobster Fest, Fossil Digging, Bastille Day & More!
As the weather really heats up, take your family into the great outdoors! If you are looking for some fun family events this weekend, Mommy Poppins New Jersey has you covered! Try a fantastic seaside seafood fest, digging for fossils, celebrate Bastille Day, go for an evening hayride on a working-farm, hop on a train or even go for a sail! Read on for our top weekend picks and remember, you can find a listing of all NJ activities for kids in our Event Calendar.
All Weekend
Lobster Fest 2012 (Bradley Beach, NJ)
The 4th annual Lobster Fest will be held on Saturday July 14th and Sunday July 15th on the boardwalk between Fourth and Brinley Avenues on Ocean Avenue. Hosted by the Bradley Beach Chamber of Commerce and The Passion Group, this two-day event features seafood galore, children's entertainment, music, beer and wine, and crafts. Free. Saturday and Sunday 11am – 9pm.

Saturday July 14th

Circus, Circus (Morristown, NJ)
Celebrating the Victorian Circus Family Festival, Dikki Ellis, wild energy, wacky routines, witty banter, and, of course, things only clowns would do, you will be amazed at the variety of circus skills. A smorgasbord of oddball antics, riotous slapstick and one darn good time had by all - all served up with a generous side order of original off beat music. General admission is $12 and $10 for members. Saturday 11:30am – 1:30pm.
Fossil Discovery Center (Ogdensburg, NJ)
The Fossil Discovery Center is based on the museum's popular Rock Discovery Center. The "digs" begin at 10:00 AM and take place every half hour until 12:30pm; each dig will last a little less than 30 minutes. Each fossil collector will get 6 fossils and a general ID chart and fact sheet. The cost is $4.50/Person. Saturday 10am – 12:30pm.
Master Gardeners Butterfly House (South Brunswick, NJ)
Come out to the Earth Center to their butterfly house that is filled with plants that feed and shelter butterflies and larvae native to New Jersey. The enclosed environment allows visitors to get an up-close look at the showy creatures. Children will be invited to take up nets and try to capture butterflies in the park to be added to the house. Fun! Free. Saturday 10am – noon.
City of Water Day (Jersey City, NJ)
Celebrate the NY-NJ Harbor at this waterfront festival in Liberty State Park. City of Water Day is a day for family fun and children's activities as well! More activities are added every day. Please check back continuously for the most up-to-date listing of events. Free. Saturday 10am – 4pm.
Bastille Day (Hamilton, NJ)
Vive la France! Come celebrate Bastille Day, Grounds For Sculpture-style, with special tours of sculpture inspired by French Impressionists, while la musique of France floats throughout the park. Enjoy an assortment of wines and a Provencal picnic basket filled with delectable meats, cheeses and French bread from The Peacock Café. For the young at heart, a GFS face painting artiste will give you a faux mustache! Kids can build an Eiffel Tower from wire in a kids-only workshop or join in a family workshop using pastels to paint like an Impressionist. Weather permitting; participants will work en plein air (outdoors) just as Monet did in France! And there's sure to be more pour vouz. Wear a beret and receive half price admission! Free with admission, $12/Adults and $8/Children 6 – 12. Saturday 1pm – 4pm.
Evening Hayrides on the Farm (Lambertville, NJ)
The Mercer County Park Commission will offer free evening hayrides at Howell Farm on July 7, 14 and 21 from 5pm - 8pm. The horse-drawn rides last 20 minutes, carrying visitors over the lanes of the 130-acre farm, which is located in Hopewell Township. During the program, visitors can also take self-guided tours, picnic in the picnic area and join a marshmallow roast. Free. Saturday 5pm – 8pm.
Sunday July 15th

Create A Fairy Dish Garden (Chester, NJ)
Garden fairies are visiting Willowwood Arboretum in Chester, and summer is the perfect time to build a miniature home for these special, magical creatures. Families are invited to tour Willowwood Arboretum gardens. Learn which plants attract fairies to your yard and create a plant a fairy dish garden to take home. $20/Family. Sunday at 1pm.
Freedom Fest State Fair (Allentown, NJ)
There will be tons of attractions during this six-day agricultural fair, including a huge carnival midway, international food court, paragon jousting and animal petting farm. There are live concerts and special events every night—visit on Friday to catch the spectacular fireworks display! $3/Child and $7/General admission. Unlimited ride wristbands are $20.
Children's Sail (Tenafly, NJ)
Experience a sail on New Jersey's official Tall Ship, the A.J. Meerwald, a magnificently restored 1928 two-masted, 115-foot oyster schooner driven by over 3,500 square feet of sail. This 2 - 3 hour, round-trip sail offers kids from ages 5-12 and their parents a hands-on learning experience. A Tenafly Nature Center Environmental Educator will introduce you to Hudson River fish, crabs and other creatures. The sail departs from the Alpine Boat Basin. $25/Child and $50/Adult. Sunday noon – 2:30pm.
Excursion Train Ride (Whippany, NJ)
Climb aboard the Whippany Railway Museum's Excursion Trains and take a ride into the past! Visit the Museum on select Sundays in June, July and September and enjoy an afternoon of relaxing family fun. $13/Adult over 12, $8/Child under 12 and lap children 12 months and younger are free. Sunday at 1pm.
Don't forget: We have additional activity listings in our Event Calendar. And if you are heading into NYC for the weekend make sure you visit the New York City Mommy Poppins events calendar to get the latest on all the fun to be had, NYC-style.
Planning an event? Submit it to our calendar.
Did someone forward you this email? Subscribe to our free newsletter.