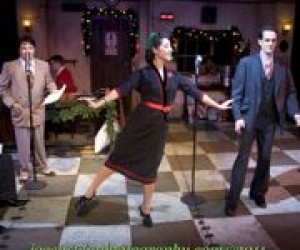 GIVEAWAY! "It's a Wonderful Life: The Radio Play": Review and Free Tickets
For many of us, watching "It's a Wonderful Life" is as much a holiday tradition as hanging stockings or baking cookies for the full-figured man in red. I have seen the film many times and consider myself a "IAWL" purist, so I wasn't sure how I was going to feel about a different version. Happy to report that the consistently excellent Mile Square Theater won me over with their charming "It's a Wonderful Life: A Live Radio Play". Read on for my review and a chance to win tickets to this Wonderful show.
Performed as a 1940's live radio broadcast, Joe Landry's "It's a Wonderful Life: The Live Radio Play" features five actors performing the dozens of roles as well as doing all the sound effects. The play-within-a-radio-play device makes for double viewing pleasure; the Mile Square actors are playing 1940s actors who enter the studio to perform the radio play "It's a Wonderful Life", so John Keller plays the '40s actor 'Jake Laurents' who plays the character of George Bailey and Annapurna Sriram plays 'Sally Applewhite' who plays Mary Bailey—follow? It's a very engaging mechanism, especially when it's implied that 'Laurents' and 'Applewhite' are sweet on each other even before they launch into the George and Mary romance.
The remaining three actors—Tim Barker, Jon Bass and Karla Hendricks—play the other (approximately) 45 roles, and they are, in a word, spectacular. Indelible characters such as Henry Potter, Violet Bick and Clarence Oddbody are given fresh and funny reads that move the play along at a brisk clip, and part of the enjoyment comes from waiting to hear what sort of fascinating voice these actors will summon for the next small character. Barker and Hendricks are terrific, but it is Bass who wins your heart with his pratfalls, practical jokes and sweet 'Angel, Second Class' persona. There are many reasons to see "It's a Wonderful Life", but the tour de force performances of Barker, Bass and Hendricks are among the best.
NJ Mommy Poppins is delighted to be able to offer two sets of two tickets to this holiday classic redux. We don't want anyone to miss out on hearing those wonderful words "To my big brother George--the richest man in town!"
The Prize: 2 sets of two tickets each to any performance of "It's a Wonderful Life: The Live Radio Play" at Mile Square Theater.
How to Enter: To enter the contest, you must be a Mommy Poppins subscriber; subscribe here. Then leave a comment below telling us why you would like to see "It's a Wonderful Life: The Live Radio Play". If you would like an extra entry into the contest, Like us on Facebook and leave an additional comment telling us that you did. Comments must be entered by 5pm on Monday December 5. Two winners will be drawn at random and notified on Tuesday December 6. Please leave your correct email address (one that you check frequently) when you leave your comment because that is the only way we will be able to reach you. If you do not respond to our email notification within 48 hours, another winner will be drawn. Email addresses of entrants will not be collected, sold or otherwise abused.
"It's a Wonderful Life: The Live Radio Play" at Mile Square Theater December 1 through December 18: Thursday, Friday, Saturday at 8pm and Saturday and Sunday at 3pm. Tickets $25, Students/Seniors $15. "Pay What You Will" performance on December 8, followed by a Talk-back with the actors. For all over performances, purchase tickets here.
Photo credit: Joe Epstein Photography.
Mile Square Theater
720 Monroe Street, 2nd floor Monroe Theater Space
Hoboken, NJ 07030