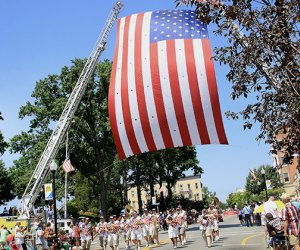 July 4th Fireworks and Parades Around New Jersey's Small Towns
Sure, you can go big 'n' splashy for July 4th; New Jersey hosts some of the best (and biggest) July 4th fireworks around, from Atlantic City to Jersey City to great beach spots. But why not try a celebration in a small town? They may not have Macy's fireworks, but the charm, the history, the food, and the Americana feel may more than make up for the loss of crowds, noise and, well, crowds.
Check out some of our favorite small town New Jersey July 4th celebrations below that come complete with parades, fun runs, antique car shows, and so much more than just fireworks! And for more summer awesomeness, check out our New Jersey Kids Summer Activities Guide. Of course, you can find even more July 4th fun in our Event Calendar.
All festivities take place on Thursday, July 4, unless otherwise noted.
Mercer County Freedom Festival – West Windsor
​Saturday, June 30
Freedom Festival is one of the earliest Independence Day celebrations in the state every year. Held in Mercer County Park, this all-day event features a wide range of activities for the entire family—water rides and inflatables for the kids, tethered hot air balloon rides, local food vendors, live entertainment, local crafts, a beer and wine garden, a mechanical bull and, of course, fireworks at 9:50pm.
Randolph Freedom Festival – Randolph
Thursday, June 28 – Saturday, June 30
This festival has it all… and it lasts three days! The Freedom Festival will include rides, games, food, bands, crafts and much more.
Lebanon 4th of July Parade – Lebanon
The Annual Lebanon Borough 4th of July Parade is one of the oldest July 4th parades in New Jersey. The celebration also features a baby and bike parade, a patriotic house decorating contest, antique car show with cars from the 1920′s to the 1970′s, boy/girl scout troops, floats, live music, fire trucks, and rescue vehicles.
Mayor's 4th of July Celebration – Summit
Each year, Summit residents gather at Soldier's Memorial Field to take part in the day's festivities. From the old-fashioned family fun events to the spectacular grand fireworks display, the 4th of July is always a memorable event. The fun includes a bicycle parade, music, rides, and amusements. The event concludes with fireworks at 9:15pm.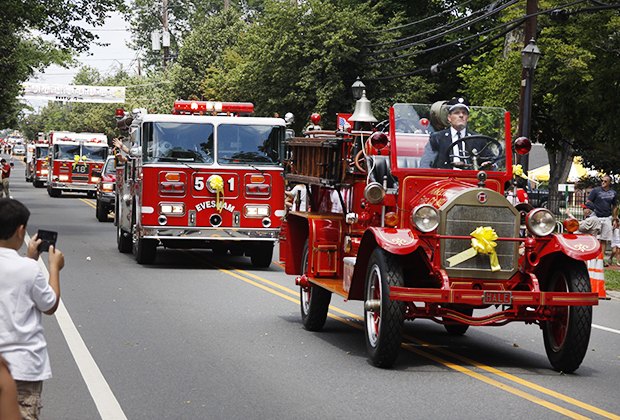 Evesham's Independence Day Celebration kicks off with a 5k followed by a parade. Photo courtesy of Nancy Louie Photography.
Evesham Independence Day Celebration – Evesham
Evesham Township starts its 4th of July celebration early with a fun run and 5K race. Events during the day include a parade, a bike parade, and a community celebration. The July 4th parade starts at 11:30am along Main Street from Maple Avenue to Bettlewood Road and features live music, community groups, and military grand marshals and refreshments. The community celebration begins at 7pm at Cherokee High School, with paratroopers and food and drinks from local vendors. Fireworks cap off the day at 9:30pm.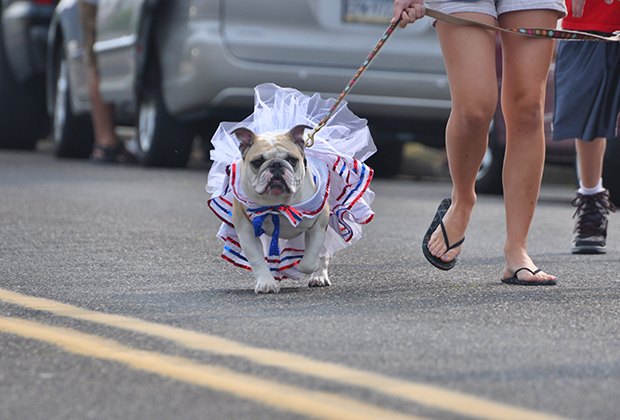 Dogs get in on the fun at Wildwood's 4th of July Pooch Parade. Photo courtesy of the parade.
Wildwood 4th of July Fireworks, Concert and More – Wildwood
The Wildwoods have a full schedule of events planned to celebrate the 4th of July, which include an Independence Day Parade, Pooch Parade, craft show, and patriotic music show. The day concludes with a Fireworks Spectacular at 10pm, and of course, the rides will be going all day!
Maplewood 4th of July – Maplewood
This all-day event starts with opening ceremonies and a bike parade. Festivities continue with ice cream and other eating contests, face-painting, pet awards, a baking contest, kids dashes and other races, small carnival amusements, a car show, live music, a food court and a talent show. It's a friendly neighborhood vibe. Fireworks top off the night.
Tuckerton Seaport Roots Festival and 4th of July Celebration – Tuckerton
The Borough of Tuckerton will present its annual Fourth of July Parade, followed by children's activities, one-of-a-kind baby parade, and entertainment. A fireworks display will take place over the lake at dusk.
Blairstown 4th of July Celebration – Blairstown
Every year, Blairstown plans an old-fashioned town celebration for Independence Day. Activities include pony rides, brass band, face painting, frog jumping contest, local food and crafts, and more. Join in at Footbridge Park!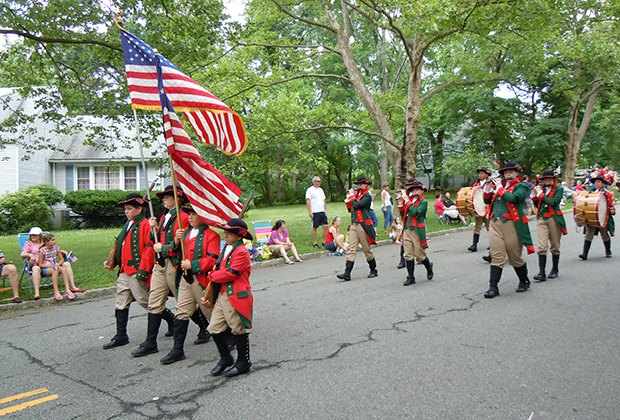 Colonial Musketeers​ march in the Florham Park Parade. Photo courtesy of the parade.
Florham Park 4th of July Celebration – Florham Park
This town has had an Independence Day celebration for more than 50 years. This year is no exception, with a fun-filled day beginning with a flag-raising ceremony, followed by the town parade, and then a family picnic. Expect obstacle courses, games, a water slide, a petting zoo, pony rides, and much more. Food and refreshments are offered throughout the day, and it all ends with fireworks at 8:15pm.
4th of July in East Brunswick – East Brunswick
This afternoon-into-evening event includes free inflatables, live music, food vendors, and a wing eating contest.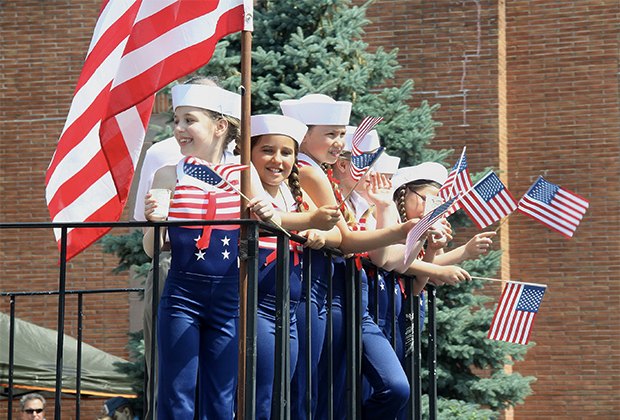 Ridgewood's 4th of July celebration includes a parade, live music, and fireworks. Photo by EBoechat via Flickr
Ridgewood 4th of July Celebration – Ridgewood
This year's event theme is "Rockin' Ridgewood: Celebrating All-American Music." The parade begins at 10am at North Monroe and Godwin. Gates at Veterans Field open at 6pm for the celebration, and the evening will include entertainment such as live music, fireworks, and more.
Smithville 4th of July Parade – Smithville
The annual Smithville parade begins at Smithville Town Center, following Smithville Boulevard and Moss Mill, toward Historic Smithville, its final destination.
Little Falls Annual 4th of July Street Fair – Little Falls
Main Street in Little Falls hosts this big block party on Independence Day, with food, vendors, crafts, kiddie rides, pony rides, and live entertainment.
A version of this article first published in 2014, but it is updated annually.