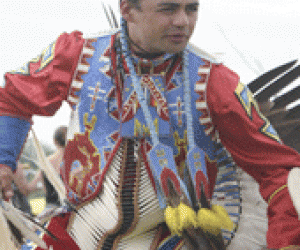 Weekend Events for Kids in New Jersey, July 11-12: Kids Day, Pow-Wow, Kayaking and More
Put on your bathing suit and be prepared to brave the New Jersey waters this weekend! Whether it is a natural or man-made waterway, this is the weekend to explore and enjoy your time at the beach, river, estuary or reservoir. Other NJ events this weekend include a visit to an historical farm or an American Indian pow wow!
Saturday is Kids Day at the Jersey City Reservoir! From 11am to 3pm Jersey City's "hidden jewel" has plenty of fun and entertainment for kids including a fire truck, face painting, food, nature and history tour and a scavenger hunt.
Feeling sporty? Today is your chance to do some free Kayaking on the Hudson River! The Hoboken Cove Community Boathouse is hosting a Family Kayaking Day at the Maxwell Place Boathouse on Saturday, July 11th from 10am to 2pm. Trained kayakers will be on-hand to provide tips for new paddlers. The boathouse is located in Maxwell Place Park near the intersection of Sinatra Drive and Maxwell Place. No reservations are needed and the Hoboken Boathouse will provide all necessary equipment (kayak, paddle, life jacket). All you have to do is come with your bathing suit and sunscreen.
Have you explored the estuary near Liberty State Park? The Liberty State Park Interpretive Center is offering a special free tour entitled "Explore the Estuary on Saturday July 11 from 10am to noon. "We will don chest waders for a hands-on exploration of our estuary. You never know what you may find in and around the waters of the Hudson. Wear old shoes that can get wet and muddy. You will need your own transportation to get from the Interpretive Center to our study site." Call (201) 915-3409 to reserve a spot.
If water is not your thing, how about exploring Fosterfield Living Historical Farm? On Saturday there are workshops on steam engines and threshing and winnowing oats, aside from the usual activities around the farm like tending to animals, gathering eggs, and churning butter.
Get ready to Pow Wow! This weekend is the Native American Festival at Sussex County Fairgrounds, Augusta, NJ! The Red Hawk Council is gathering for a weekend of native American song, dance, crafts and food. A weekend of native American song, dance, crafts and food.