Kid-Friendly Sporting Events in NJ (with bonus tailgating tips!)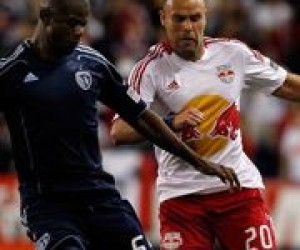 Sporting events in NJ are kid-friendly! Yes, New Jersey parents, you can take your kids to a college or professional sporting event--you can even tailgate with them! With so many little ones starting to play organized sports at a young age, college and professional teams are making their games more fan- (and kid-) friendly to increase attendance and encourage kids to stay interested. So brave the crowds and the face painters and enjoy the game--and enjoy our tips for the tailgating par-tay before!
New York Jets, East Rutherford NJ
As a life-long Jets fan, my daughter has been encouraged to wear the green since birth. She attended her first game at 6 months (have diaper bag, will travel), sleeping through most of it, but still looking cute in her little jersey. The Jets do a great job of organizing activities for kids, and while Jets fans have a reputation for being a bit rowdy, it has always been good clean fun for us. Before each home game at the new Meadowlands Stadium in New Jersey, there is free face painting, giveaways and kid-friendly games. The Jets practice in Florham Park, and offer open practices each summer for fans. Two years ago, my daughter got to meet Mark Sanchez (the QB for non-fans). The players were very accessible and stayed after practice to sign autographs and take pictures with the kids. In addition, media-savvy kids can check the Jets website and follow their favorite players on Twitter for up to the minute info about games and match-ups. Generation Jets is the team's fan club for kids. Membership is free….signing up is easy, and kids who join are entitled get a team store discount, locker room tours, a birthday message, and first "dibs" on autographs at open practice. The Jets Flight Crew (their cheerleaders) offer a summer camp for girls 7-14 at their practice facility, and girls that participate get the opportunity to cheer at a Jets pre-season game!
New Jersey Devils, Newark NJ
The New Jersey Devils play at the Prudential Center in Newark, which is easily accessible by train and car (parking is convenient). Kids can join the NJ Devils Power Play, which sends weekly emails and news from the team. Technologically savvy kids can follow Devils players on Twitter. Tickets can be purchased through Ticketmaster.
New York Red Bulls, Harrison NJ
Like the football Jets, the soccer Red Bulls play in New Jersey. Their new stadium is located in Harrison and is convenient to public transportation and parking is adequate. Check the Red Bulls website for game day giveaways for kids; kids can also follow their favorite players on Twitter.
Rutgers Football, New Brunswick NJ
The Scarlet Knights have a new coach and an improved stadium. RU football is offering many theme nights this season---groups such as teachers, first responders, scouts, military and AAA members can enjoy ticket discounts (see the website for specific prices. On September 21, the team is encouraging fans to wear black for the 'blackout" against Arkansas; other upcoming events are Homecoming 10/26. Go RU!
Tailgating With New Jersey Kids
Now that you have those football or hockey tickets in hand, there is the issue of getting there and eating. Tailgating before a game is an American tradition which is fun and easy to do with kids. As long as the food and the activities don't run out, you can make a great family day out of your next game. Here are some tips for a great tailgate party.
1. Have lots of food. Grilling is a bit of a hassle when you have kids to watch over, so make sandwiches or bring a crockpot with a hot dish inside. Many cars have plugs or adapters so you can plug in your cooker to keep food hot. Some of our favorite main dishes for game day include:
* pulled pork (bring rolls/coleslaw and assemble there)
*brisket (cook on low overnight with 3 T. grape jelly and a packet of dry onion soup--great on rolls as well)
*roast beef sandwiches on a cut up baguette with arugula, tomato and horseradish mayo
*turkey, cheddar, and sliced green apple with honey mustard on pumpernickel swirl--a kid favorite!
*cupcakes or cookies with team colors or decorations; there are Jets cupcakes in some local bakeries as well as at Shop Rite!
*Many of the stadiums allow some food to be brought in, which is certainly a healthier choice than concession snacks. Check with the individual stadium for rules.
2. Bring a cooler with extra water lots of ice for thirsty fans after the game. Have single-serving snack bags so you aren't left with open bags of chips or pretzels can spill or become stale.
3. Park as close to the bathrooms as possible!
4. Take along garbage bags and disposable wipes for an easy clean-up.
5. Bring fold-up chairs and a portable card table if you have one; makes assembling food and paper goods easier. Kids can get tired, so it's a wise plan to have chairs for them.
6. A Frisbee, football or any other easy game passes the time between food and the game.
And most importantly, don't forget to wear your team colors!