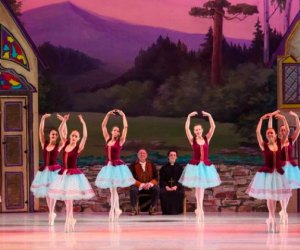 Singing and Dancing Classes for Kids in Fairfield County
When my kids were infants, instead of coaxing them to sleep with lullabies, I used to play show tunes so as they've gotten older, it's really no surprise that some of their favorite leisure activities involve singing and dancing. There are lots of options in Fairfield County for kids of all ages and abilities who are interested in the musical arts…these are some of our favorites:
Ballet School of Stamford—Stamford
The Ballet School of Stamford is a not for profit school that provides dance training for children ages 3-18. The school is located in Stamford's Old Town Hall.
175 Atlantic Street, 203-358-8853
A Common Ground Community Center—Danbury
With classes in everything from tap to hip hop to Bollywood and beyond, the bustling Common Ground Community Center has classes for kids beginning and age 3 and continuing through high school.
33 Crosby Street, 203-791-9850
Connecticut Dance Center—Stamford
This recently expanded studio welcomes students of all ages and abilities beginning in preschool. They offer mommy-and-me, toddler dance, pre-ballet, ballet, jazz, hip-hop, and contemporary classes. They also offer several dance classes just for boys.
76 Viaduct Road, 203-569-3131
Connecticut Dance School--Monroe
With everything from Ballet to Hip Hop, and a whole lot in between, Connecticut Dance School has something for every dancer. Classes start young, their Creative Dance is offered for the 3-year-old set to give them a beginner idea of what the world of dance is all about.
477 Main Street #26, 203-261-1347
Curtain Call—Stamford
Curtain Call's classes are focused in building not only performance skills, but confidence, social skills, creative instincts, teamwork, and leadership. They offer "Broadway Melody" and "Broadway Tap" classes for children as young as 6.
1349 Newfield Avenue, 203-329-8207
Enchanted Gardens—Ridgefield
Offering a wide spectrum of dance classes, including hip hop, jazz, modern and ballet, Ridgefield's Enchanted Garden also offers classes in yoga, drama, voice, and music. In short, there is something for everyone at this Ridgefield outfit.
Studio 1: 529 Ethan Allen Highway, 203-894-1987
Studio 2: 165 Danbury Road, 203-431-3350
Kidville—Westport
Kidville's signature music program, Rockin' Railroad, introduces a new instrument to kids each week and is available for kids from newborns through age 5. Two-year-olds are playfully introduced to the basic positions and movements of ballet using music, games, creative imagery, and stories in the fun-filled Ballet Tea Party.
1572 Post Road East, 203-955-1580
Performing Arts Center of Connecticut--Trumbull
This school gives kids the opportunity to work with some amazing teachers. Because of our proximity to New York City, it isn't unusual to find that your child's teacher is splitting his or her time between teaching at PACC and working in one of the dance capitals of the world.
18 Lindeman Drive, 203-372-2787
Performing Arts Conservatory of New Canaan—New Canaan
New Canaan's Performing Arts Conservatory offers musical theater classes and acting classes for kids in kindergarten and up. The organization's new location features a great stage and lots of room for budding thespians.
70 Pine Street, 203-966-6177
Pop Music Academy—Stamford
Pop Music Academy is a rarity: a studio that focuses on pop music, from voice, guitar, bass, drum, and keyboard lessons to performance classes, songwriting coaching, and more. They offer both group and individual classes, and hold an annual showcase, where students perform backed by a live band of professional musicians.
980 Hope Street, 203-322-4767
Indian Cultural Center of Greenwich - Greenwich
The ICC is offering Introduction to Indian Dance for students in grades PreK-4. This all new class is taught by a Bollywood choreographer and will focus on the styles of Bollywood, Garba, and Bharatnatywam. For locations, please check their website.
Photo: Courtesy of Ballet School of Stamford.
Originally published 9/5/12.