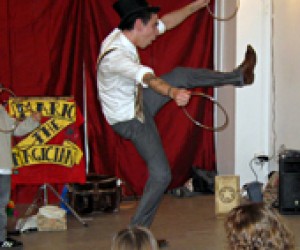 Free and Cheap Magic Shows for NYC Kids
When you look at the prices of a lot of magic shows in New York City, like Steve Cohen's Chamber Magic or Sam Eaton's The Quantum Eye, you realize that the real trick is affording tickets. But there are some (comparatively) affordable magic shows for kids in NYC, in fact a few are even free.

Whether your child believes in sorcery or just wants to figure out how it's done, a good magic show can captivate even really young kids. Trust me I know: Ever since my preschooler saw a DVD of that old Frosty TV special in which a magician's hat brings the snowman to life, she's been obsessed and we've seen at least a dozen magic shows, from the free ones at Bryant Park's Le Carrousel to the long-running Off Broadway show Amazing Max. So ladies and gentlemen, boys and girls, behold our roundup of magic shows for kids in New York City this summer.
Magic at Coney – Coney Island
Wednesdays, June 13, 26, July 11, 25, August 8, 22 and September 12 at 9pm
Coney Island USA, 1208 Surf Avenue at West 12th Street
$10 for adults, $7.50 for children under 12
On the second and fourth Wednesdays of each summer month, magic happens next to the boardwalk. The lineup changes every time but given the locale you're sure to see some colorful illusions. For families with tweens and teens, it's a fitting end to a fun-filled day at Coney Island.

Mario the Magician – Tribeca
Sunday, June 17 at 2:30 and 4:30pm
Space on White, 81 White Street near Lafayette Street
$20 for adults, $10 for children
Ages 3-11
My daughter and I love Mario Marchese and his slapstick antics. My kid particularly enjoyed meeting his sidekick, a live dove named Mozzarella. Mario has a cool retro style that's inspired by old vaudeville acts, and there are lots of opportunities for school-age kids to come on stage and assist him. He does traditional tricks like making objects disappear, and even teaches children a simple trick and gives them props to take home. He also performs at kids' parties.

Le Carrousel Magique – Midtown West
Bryant Park, 40th Street between Fifth and Sixth Avenues
Sundays at 1pm June 24-July 29
FREE
Magicians from the long-running Off Broadway show Monday Night Magic perform tricks next to the park's lovely merry-go-round. My daughter and I attended a few of these last year, and they're high quality, one-hour shows with first-come, first-serve seating. Afterward, take a spin on the carousel for $2 and explore offbeat activities in nearby Times Square.

Justin the Magician – Midtown West
Saturday, June 30 at noon
Bryant Park Reading Room, 40th Street between Fifth and Sixth Avenues
FREE
Ages 4-8
My daughter and I saw Justin perform in Bryant Park last year and it was an unforgettable experience for my preschooler. She and the other kids in attendance loved his goofy sense of humor, and the fact that he seemed to let them change the outcome of his tricks. He also gave her a magic wand and she's been trying to turn me into a bunny ever since. He also does kids' parties, including an all-inclusive package at the Children's Museum of Manhattan.

Liam the Magician – Brooklyn Heights
Sunday, September 30 at 1pm
Atlantic Antic Street Festival, 81 Atlantic Avenue at Hicks Street outside the Moxie Spot
FREE
Ages 3-8
We recently caught Liam Malanaphy's act at an Old Stone House fundraiser and my four-year-old laughed through the entire show. Liam invites kids to assist him for nearly all of his tricks (using silly props on them, like a funny flamingo hat) and gives them balloon animals as parting gifts. The kids also like saying hi to Liam's live dove, Magic. Liam also does kids' parties.

The Amazing Max and the Box of Interesting Things – Midtown West
MMAC Theater, 248 West 60th Street between Amsterdam and West End Avenues
Saturdays at 4:30pm and select Sundays through July 1
$20-$49.50
All ages
An intentionally lowbrow show, Amazing Max features lots of potty humor along with slick tricks. Not that the kids are complaining: One of our Mommy Poppins contributors, Stephanie, took her six-year-old and said he turned red he was laughing so hard. There's a ton of audience participation—in fact, Max chooses a young viewer for almost every act, as you can see from the trailer for his show. The tickets aren't cheap but you can save a few bucks by using the discount codes on Broadwaybox.com.

Monday Night Magic – West Village
Mondays at 8pm
The Players Theatre, 115 MacDougal Street at 3rd Street
In advance: $37.50, at the door: $42.50
Ages 12 and up
The most sophisticated magic show of the bunch, it's recommended for teens and adults. The lineup changes every week but the conceit remains the same: Four professional magicians (usually with very impressive resumes) do tricks on stage and off during intermission, which means audiences can really see them work up close.
More ideas for magic-obsessed kids: Although the Abracadabra Superstore in Chelsea discontinued its free Sunday afternoon magic shows, if you visit the magic department the staff will happily demonstrate any tricks you're thinking of buying. Also, it's worth browsing bookstore and library calendars. In the past, we've caught free magic shows at various Barnes & Noble locations, Word in Greenpoint, the New York Public Library and the Brooklyn Public Library. In fact, the BPL even has a list of helpful resources for kids interested in learning more about magic. During the summer, you'll also come across magicians at zoos, festivals, fairs and carnivals.