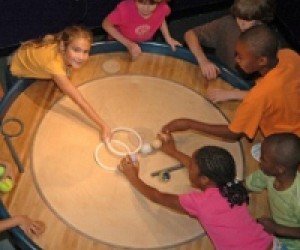 Best Museum Exhibits for NYC Kids Fall 2011: 9 Cool New Installations
New York City always seems to hum with so much excitement at this time of year. Schools are back in session, vacations are over and local museums and cultural institutions unveil their new exhibits for the fall season.

As the temperatures get cooler (starting this weekend we hear), families will be looking for places to play indoors. Happily, this season's crop of exhibitions includes many interactive installations that are perfect for kids, from preschoolers to tweens.

Families can blast off into outer space at the American Museum of Natural History, join Peter on his Snowy Day adventures at the Jewish Museum and learn about staying healthy at the Children's Museum of Manhattan. Plus, Soho's Children's Museum of the Arts moves into its new Hudson Square digs in October, and the New York Historical Society debuts its Children's History Museum and Library in November. We're even got a handy list of free museum hours so you can figure out when you can visit at no cost.

And that's just a bit of what's going on in the art world. Here are nine great exhibits for NYC kids this fall.
Wild Minds — What Animals Really Think – New York Hall of Science
Through January 15, 2012
$11 for adults, $8 for children ages 2-17, free for kids under 2.
This exhibit consists of 10 interactive kiosks that demonstrate what we currently know about how animals think. You and your children will be surprised by the interesting facts and revelations about just how sophisticated some creatures are, and the hands-on stations make learning fun and easy. It's a modest show, but it's a great excuse to get out to Corona to the NY Hall of Science, which has plenty of other attractions.

The Snowy Day and the Art of Ezra Jack Keats – The Jewish Museum
Through January 29, 2012
Free with museum admission: $12 for adults, $7.50 for students, free for children under 12. Free to all on Saturdays. Children have adored the picture book The Snowy Day for half a century. But most of them probably don't realize its important place in history as the first children's book to feature an African-American as the main character. This show focuses on author-illustrator Keats' large body of work and includes 80 original paintings and collages, and unpublished sketches. Although this exhibit is certainly family-friendly, it's not hands-on. However, there is a reading nook for the kids stocked with The Snowy Day and other Keats' classics featuring his lush, evocative art work and simple stories. The museum will be holding family events in conjunction with the exhibit. Mark your calendar for Ezra Jack Keats Family Day on Sunday, November 13, when the kid-lit icon will be celebrated through music, readings, art workshops and gallery hunts.

Warhol Paintings for Children – 92nd Street Y
Through October 4
FREE
Although the 92nd Street Y isn't usually thought of as a museum, its Milton J. Weill Art Gallery regularly hosts exhibitions. Its current offering is a collection of Andy Warhol silkscreened canvases that were created specifically for kids. One of our writers took her six-year-old daughter last week, and while she admits that the show itself is modest, there are some really fantastic free art workshops being offering in conjunction with the show.

Secrets of Circles – Brooklyn Children's Museum
September 27-January 2, 2012
Free with museum admission: $7.50, free for kids under 1.
This installation consists of 18 open-ended, hands-on mini-exhibits that invite kids to examine the round shapes they come across every day. Children will be having so much fun they won't realize they're learning rudimentary math, science and engineering concepts when they practice with a compass to draw perfect glow-in-the dark circles, roll a ball along a turntable to see what happens and explore the myriad uses of the wheel.

Make Art (In) Public – The Children's Museum of Arts
October 1-March 31, 2012
Free with museum admission: $10, free for kids under 1
We are super-excited about the October opening of the brand-new Children's Museum of the Arts on Charlton Street. The first exhibit in its 2,000-square-foot gallery focuses on artists who create public works, like the legendary Keith Haring and the outrageous Christo and Jeanne-Claude. The museum will offer daily programming and workshops for kids in conjunction with the exhibit. Visit the website for a complete schedule.

ElectriCity: Powering New York's Rails – New York Transit Museum
October 30-December, 2016
Free with museum admission: $7 adults, $5 for children ages 3-17
We're already big fans of this underground institution so we're really looking forward to this new 2,000-square-foot interactive installation that was created in collaboration with the Liberty Science Center. Little straphangers can fiddle with wheels and rev the motor on a model train, examine subway track switches and other artifacts, and learn how electricity courses through the third rail.

Eat Sleep Play: Building Health Every Day – Children's Museum of Manhattan
Opens November 5
Free with museum admission: $11, free for kids under 1
This playful exhibit encourages kids to stay healthy and active. Visitors can explore the human body at various hands-on activity stations, like massive head full of interactive games known as the Decision Center, a Consequences Crawl through a giant digestive system and the importance of slumber in the Sleep Center.

DiMenna Children's History Museum – New York Historical Society
Opens November 11
Free with museum admission: Adults $15, $5 for children ages 7-13, free for kids under 7
I'm really excited about this one. After undergoing massive renovations, the 207-year-old New York Historical Society is set to reopen in November with a giant 4,000-square foot children's history museum on its lower lever. The DiMenna Children's History Museum will feature pavilions where kids can meet notable New Yorkers like Alexander Hamilton, James McCune Smith and Cornelia van Varick, as well as regular kids like newsies, newspaper vendors from the turn of the last century. Visitors can also learn all about the democratic process, deliver a Presidential address and peek into the Historical View Finder to see how NYC has changed over the years. The institution will also unveil the Barbara K. Lipman Children's History Library, where families can read kid lit and explore rare books, maps and manuscripts digitally

Beyond Planet Earth: The Future of Space Exploration – American Museum of Natural History
November 19-August 12, 2012
$24 for adults, $14 for children ages 2-12, free for kids under 2.
At this new space-themed exhibit, kids can explore the final frontier without ever leaving Earth. Highlights include a life-size model of a lunar habitat (a.k.a. home sweet home to astronauts), a walk-through diorama of the surface of Mars and gear used in previous space expeditions. There will also be plenty of interactive education stations, where kids can learn about our solar system and whether we'll ever be able to colonize other planets.
If you happen to be traveling to New Jersey, the Liberty Science Center recently opened a wonderful new exhibit: Math Midway. You can read the full review on our NJ site.
Find out about additional seasonal activities in our Fall Fun Guide.