MTA Nostalgia Trains: Take a Ride Back in Time in NYC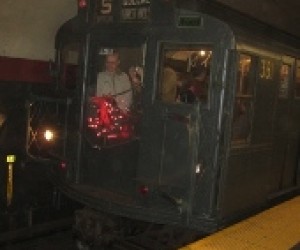 Among the many things we romanticize during the holidays, trains are right up at the top, but usually it's the "choo-choo" kind, not the "screech-screech-unh-unh-eh" variety, a.k.a. the subway.

The exception is the MTA's annual Holiday Season Nostalgia Trains, vintage subway trains running along the Sixth Avenue line from Long Island City, Queens to Lower Manhattan. Read on to find out how you can catch a trip back in time courtesy of the MTA, all for the price of a regular fare!
The MTA's Holiday Season Nostalgia Trains run on the Sixth Avenue line between Queens Plaza and Second Avenue stations on five consecutive Sundays, November 20-December 28 between 10am and 5pm. (Technically, it's the M line but since that train doesn't run in Manhattan on weekends, you'll actually be catching a special shuttle.) For your regular fare, you can enjoy a classic ride on vintage R1 to R9 subway trains that date from the 1930s through the 1970s. Old-school advertisements, from quaint to downright funny, and overhead displays have all been maintained and refurbished by the New York Transit Museum.

The vintage trains will hit all of the stops along the M line every 90 minutes or so. 34th Street/Herald Square, 42nd Street/Bryant Park and 47-50th Streets/Rockefeller Center are all on the route, so you can take an old-fashioned ride to some old-fashioned seasonal fun, like Macy's Santaland, ice-skating rink at Bryant Park and all of the department store holiday windows.

Bonus: The MTA will also be running vintage buses from the 1950s to the 1980s on the 42nd Street crosstown line from Monday to Friday December 1 to 19. These buses will only run in good weather.




Looking for more train fun for the holidays? Check out the New York Botanical Garden's Holiday Train Show. You can read about other seasonal fun in our Holiday Guide and find great gift ideas in our NYC Shopping Local Gift Guide.
Originally posted on November 15, 2010