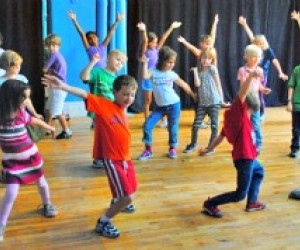 Giveaway: Win a Week of TADA! Youth Theater Summer Camp
We've written a lot about the awesome family shows at TADA!, NYC's premier youth theater company. The original musicals are always sweet and smart, and performed by kids for their peers.

Of course once your children see a TADA! show, they'll probably beg to do one (my daughter certainly did). Luckily, TADA! doesn't just entertain NYC families. The troupe also runs popular camps and classes for kids. One of the best things about TADA!'s programs is that your child doesn't need to be a Broadway baby to attend. No audition is required and enthusiasm is prized over ability, so it's a noncompetitive and fun environment.

We're giving away three great TADA! prizes: one week of summer camp, a semester-long class and a family four-pack of tickets to the company's summertime musical, Everything About School (Almost). All told, that's more than $850 in prizes!

Read on for more info on the camps and classes TADA! offers, and the scoop on how to enter to win these great prizes.
TADA! runs a variety of different camps throughout the summer, including two-week mini-camps for children ages 4 to 5, and week-long camps for elementary and middle schoolers. (There's even a session that last week of August, when pretty much every other program has ended for the season). The camps are run in three different locations, two in Chelsea and one on the Upper West Side, and each week has a different theme, like "Gleek" Out, Broadway Bieber, Big Top Circus, Monster Tails and Princess Veils, and Ultimate Rock Band. Professional teaching artists help kids work on their singing, acting and dancing, and create their own mini-musical, which is performed for family and friends on the last day. (For those who can't make it, TADA! posts the performance online on a private site a few weeks later.)

School break camps and classes offer more of the same. There are even Parent & Me classes for toddlers (dubbed T.O.T.S.: Theater On Their Scale), Creative Musical Play for preschoolers and Saturday classes for kids who can't make it during the week.

TADA! summer camp costs $450 per week (discounts are offered for families that sign up for multiple sessions). But one lucky Mommy Poppins readers will win one week of TADA! summer camp for free. The second runner-up will snag a fall class at TADA! and the third runner-up gets four tickets to the company's summer show, Everything About School (Almost), which follows the comic adventures of eight friends from elementary school to high school graduation, and features songs from past TADA! hits.

If you'd like to enter our TADA! giveaway, please fill out the form below. There are several ways to enter, each giving you more chances to win these great prizes. The winners will be picked at random and announced on our Facebook page next week.
OUR LATEST VIDEOS