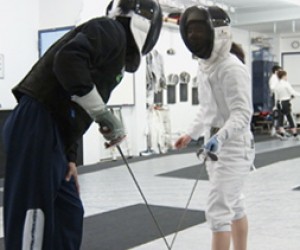 Fencing Classes for New York City Kids
Your kids want to try fencing because they idolize Johnny Depp in Pirates of the Caribbean, and you want them to study it because you heard that it looks great on a college application.

But enrolling your kid in a fencing class has many more practical benefits. It's fantastic exercise, and helps kids improve their agility, concentration and decision-making skills. Plus, fencing often attracts kids who aren't into more traditional sports, since it depends more on strategy and skill than athletic ability.

We've rounded up six great NYC schools for your aspiring swashbuckler, most of which offer reasonably priced introductory packages that help you decide whether your kid's ready for a long-term commitment. En guarde!
Fencers Club – Chelsea
229 West 28th Street between Seventh and Eighth Avenues, 2nd floor
212-807-6947
Ages 7 and up
Founded in 1883, this organization is the oldest fencing club in the country. Kids can learn how to fence with the foil, epee or saber (coaches will determine which option is best for your child). After-school classes and private lessons are available. All students are required to purchase an annual membership, however the club offers a three-session introductory package before you join so you can make sure it's the right fit for your child. Equipment is sold and rented at the on-site shop. The club is also home to the Peter Westbrook Foundation's Saturday Fencing Program, which provides lessons to inner-city youth.
Manhattan Fencing Center – Midtown West
225 West 39th Street between Seventh and Eighth Avenues, 2nd floor
212-382-2255
Ages 4 and up
This club employs world-class instructors who have coached or fenced at the Olympic or national level. The facility has specially designed floors to safeguard knees and ankles. There are a number of introductory packages: five classes for ages 4-6; two group and two private lessons for ages 7-18; and eight private lessons for ages 7-18. Regardless of your child's age, the school recommends potential students take a private lesson before signing up. If you do opt to enroll your child in regular classes here, you must join the club. (Those with less than 12 months experience do not need to be a member to take beginner classes.) There's annual membership fees or a per day fee for nonmembers to take a class. You can try out fencing for free: Teachers from the center hold no-cost beginner lessons on Tuesdays at 1pm in Bryant Park. Equipment is provided.
Brooklyn Bridge Fencing Club 
 – Dumbo
68 Jay Street near Water Street, Suite 508
646-823-2529
Ages 6 and up
An award-winning foil fencer who competed at the Olympics, Dan Kellner founded this school in 2010, and personally teaches all of the students. The club's introductory package consists of five 20-minute private sessions, all of which must be completed within 45 days. There may be monthly membership fees and floor fees. Beginner classes for kids are grouped ages 6-9 and ages 10-17.
New York Fencing Academy – Coney Island

2896 West 12th Street between Neptune and Surf Avenues
718-996-0426

Ages 6 and up
Like Brooklyn Bridge Fencing Club, this club opened its doors in 2010. There are many introductory packages to choose from. For beginners, the school provides all the equipment; more advanced fencers will need to purchase their own. Unlike most other clubs, you do not need to join in order to take classes. For new students, the first season of membership is free with an introductory package. Membership perks include access to special offers and discounts, and the chance to represent the academy at competitions.
Sheridan Fencing Academy – Upper East Side
1801 First Avenue at 93rd Street
212-831-0764
Ages 4 and up
Although this club doesn't have introductory packages, it does offer free trial classes and rolling admissions, so your kid can try out fencing at any time. You also don't have to pay a membership fee. There are programs for 4-6 year olds, 7-9 year olds and 10 & older.
New Amsterdam Fencing Academy – Upper West Side
2726 Broadway at 104th Street, 2nd floor
212-662-3362
Ages 3 and up
Spouses John and Larissa Gonzalez are the founders and owners of this club, and say they modeled it after training systems in Europe. The NAFA fencing program emphasizes group classes. Students earn patches by completing various tests. The academy teaches FITfamily (kids ages 3 and 4, along with mom or dad), FIT Kids (4-5 year olds and 6-8 year olds, as Fencers In Training), Y10 Fencing (9 and 10 year olds) and a Junior program for older kids.
Brooklyn Fencing Center – Carroll Gardens
62 Fourth Street at Hoyt Street, second floor
718-522-5822
Opened in 2003, this Olympic-style fencing center boasts a spacious 6,500-square-facility. Children ages 7 and up can sign up for classes by trimester or opt for private lessons. Many students compete locally, nationally and internationally, but recreational fencing is also available. Members get discounts on classes and other perks. Bonus for parents: The waiting room has free Wi-Fi.

For more great kids' classes, check out our Classes Guide.
Photo courtesy of New Amsterdam Fencing Academy