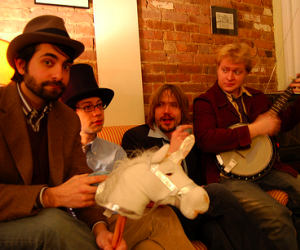 Don't Miss: Deedle Deedle Dees Family Variety Shows
Assuming you don't already know the awesome NYC kids' band, The Deedle Deedle Dees, you should, and seeing one of their new Family Variety Shows at The Knitting Factory in Williamsburg is a great way for you and your kids, small and tall, to get your dance on and learn a thing or two about American History besides.
While seeing a regular Deedle Deedle Dees concert is always mighty fine entertainment, because these are bona fide Variety Shows, not only do you get the show's eponymous stars but you'll also get down with some righteous musical guest artists, lend a listen to a sparkling story, and delight in the onstage diversions of some truly talented kid-performers.

They Rock
The first thing you have to know about the Deedle Deedle Dees is that they really rock. Not that "fake rock for tots." No cloying covers, lame lyrics, or widdle-kiddie voices that make some of us grown-ups run for cover (or a double espresso). They're the real deal. Since 2003, band members Lloyd Miller, Chris Johnson, Ely Levin and Anand Mukherjee have steadily earned a solid reputation for turning out sounds and songs that are original, clever, and frequently funny. Though the group's characteristic musical styling is fairly eclectic with a solid downbeat, expect a recipe of rock n' roll spiced up with influences like the celebrated CBGB's triad (country, bluegrass, and blues), soul, roots, folk, and occasional unexpected dashes of garage punk or even bollywood. You and your kids will dig it!
They Teach
The Deedle Deedle Dees fresh (and utterly unique) focus on singing about famous and, more often, not so famous people in American History makes learning about such heady stuff hip and full-out fun. They get it right in a way that most hot-air hero tributes made for the educational market don't. They're serious about their mission to get kids excited about history—American in particular—and to capture the essence of some important figures in our past in a less stuffy way. Performers, sports players, writers, heroes sung and un- (like naturalist John Muir) as well as unexpected political folk all figure into the marvelous mix.
Women in history are not forgotten. The theme of the first (kick ass) Variety Show was all about cool women in history—like little-known strike-leader Harriet Hanson Robinson or the brawlin' blues belter Bessie Smith. And the Brooklyn-based band sings a lot about NYC and near-abouts, present and past . From an improbable waltz about our highways called "Major Deegan" to the sweet "BrooklynBridge," a tribute to that cherished landmark completed with the instrumental help of (heretofore "unsung" heroine) Emily Roebling.
Deedle Deedle Dees Family Variety Shows
Now The Deedle Deedle Dees are bringing their cool sounds to NYC every month in the form of a family Variety Show. Each show has an interesting theme, aimed at teaching kids about another corner of this world that they can dig deeper into.
For your entertainment pleasure and to broaden the musical horizons of your beans and babes, each show will have at least one carefully selected guest artist or band. The first show featured soloist songbird Ali Hammer (of Rasa Radiata) and welcomed the horn-heavy Red Hook Ramblers, who got the joint jumpin' with a jazzy taste of the roaring twenties Dixie-style.
Each show will also feature a swell story, read by the original author when possible. (Randall De Sève read her latest book at the opening show).

Upcoming Shows:
Upcoming Family Variety Shows at Knitting Factory
361 Metropolitan Avenue, Brooklyn
April 10th, 2010 at 11am
The theme is Baseball featuring songs about the likes of Babe Ruth and Satchel Paige. Click here for a sneak peak about exciting special guests "in the works."
May 8th, 2010 at 11am
The theme is the legendary Fela Kuti (the famed Nigerian musician and activist). Special guests include members of the Broadway cast of Fela! the musical!
The Variety Shows go on Summer Break for June, July, and August then return in September for more fun!
All shows $10 / person OR $20 / family.
Lead Dee Lloyd Miller also hosts weekly family sing-a-longs at a number of local venues including:
Knitting Factory on Fridays at 11am, just $3 per family
Midwood Martial Arts on Mondays at 10:30 am, $6 per family
(note: No sing-a-longs on March 30)
*Bring a printout of this story to the show and get a free signed poster