Going to a Mets Game with Kids, A Cautionary Tale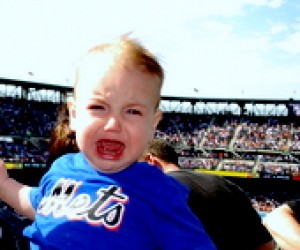 With the coming of Spring comes the start of the Major League Baseball season. I decided to celebrate both events by taking my 1-year old son Henry and his grandfather to Henry's first baseball game at Citi Field for the Mets opening day.
The first obstacle in bringing a small child to a Mets game at Citi Field is that the Mets website doesn't provide answers to all of your questions (you can also call Fan Assistance at (347) 545-2002 but there is no guarantee that anyone will pick up or (718) 507-TIXX which is the general ticket office). So I thought I would share what I learned about going to a Mets game with a small child:
(1) You don't need a ticket for a child under 32" tall as long as the child sits on your lap during the game,
(2) technically only umbrella strollers are allowed,
(3) Citi Field has a number of family restrooms and changing tables are available in every bathroom.
With that knowledge in hand, I headed to the stadium. Getting through security with the stroller was easy enough (although I had to take Henry out so it could be checked). The ticket taker was standing in front of an entrance that did not have a turnstile so we just strolled through. From there a security guard led me to an internal hallway to an elevator that took me to my section (we even got free tattoos from the elevator operator).
Once I got to my section I looked for a place to leave my stroller. I brought a folding stroller (a Maclaren Techno XLT) in accordance with the rules but I'm too tall to use a real umbrella stroller, and although the Maclaren Techno does fold and I could have probably gotten it under my seat it wouldn't have been pleasant for me or for the rest of my row of seats. Finding a space underneath a staircase that was railed off, I asked a security guard if I could just leave the stroller there and he said it wasn't a problem.
Finally getting to my seat in the middle of the first inning, I considered my trip a success. I hadn't, however, considered the fact that Henry might not be completely comfortable surrounded by a huge crowd of strangers high up in the air (the promenade section, what used to be called the upper deck). And then David Wright hit a homerun so our whole section stood up and started cheering . . . everyone but Henry who started screaming in absolute terror. We quickly left our seats and never made it back.
Fortunately, Citi Field is well designed for these situations; each level is much more open than at Shea, so you can watch the game while walking around the concession stands. There are also two large dining areas, one on the main level of the stadium behind the scoreboard in Center Field (with the Shake Shack, Blue Smoke, etc.) and a much quieter dining area behind home plate in the promenade section which doesn't have a Shake Shack but does have plenty of open picnic tables. Finally, there is a large FanFest area that is a lot of fun for older kids, with a dunking booth, pitch speedometer, batting cages and a tee-ball replica of Citi Field.
If you are a Yankees fan, there is a lot more information on the Yankees website (the Yankees Ticket Office can be reached at (718) 293-6000) regarding strollers, etc. than on the Mets site. However, the situation is fairly similar. Children are allowed in without a ticket if they are under 30 inches tall and can walk under the turnstile or 30 inches tall and carried in. The Yankees have a better stroller policy than the Mets, allowing both folding and non-folding strollers.
Considering how expensive it is to go to a Mets game I don't think I'll be heading back with a baby in tow in the near future, although I was happy for all the accommodations that were available and look forward to when Henry is a little older and can enjoy things like the FanFest and the game more.