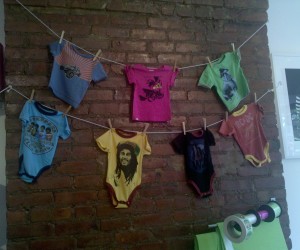 Baby Boutiques in Williamsburg, Brooklyn
[UPDATED: December 1, 2012]
When you think of Williamsburg you may think more about hipsters and hangouts than babies and binkies, but it may be time to rename this hood babyburg, cause it has sprouted some of Brooklyn's best baby and toddler stores all within a few blocks of each other, giving Park Slope a run for its money.
Read on for the scoop on these baby boutiques and some exclusive discounts just for Mommy Poppins readers.
This store moved to nearby Greenpoint in October 2013 Flying Squirrel
This cutely cluttered baby store has a homey feel as soon as you walk in the door. Local Brooklyn designers have cute screened onsies for sale and there is a good selection of practical baby items. I went in looking for an Ergo baby carrier of which they stock plenty. The owner offered to fit my baby and I with the carrier and let me borrow the store model. Aside from the stellar customer service the best thing about Fling Squirrel is that they have a secondhand section. There are gently used baby items that one can purchase for a reasonable price. Mention Mommy Poppins and receive a 10% discount off your purchase.

87 Oak Street
Brooklyn, NY 11222
(718) 218-7775
Smoochie Baby has their own line of baby bath products which are located behind the register. The general philosophy behind the store is to stock organic and natural baby goods. There are books and toys like the Punk Rock Alphabet and the Rody bouncer. They have a Wednesday story time and also give little hair cuts in the back. The staff was hip and knowledgable and the store was bright and well designed. Mention Mommy Poppins and get 10% off your purchase!
110 Berry St
Brooklyn, NY 11211
(718) 384-3340
This earthy chic boutique is not to be missed. The life sized plush Hansa sheep makes quite an impression with the little ones. The really impressive draw to this store is the adorable outfits. The clothes run up to 3T and are made of exquisite fabrics that you would love to parade your little one around in. This store may burn a whole in your pocket with some items cresting over $100 but it is well worth the visit. Our favorite items here were the soft baby moccasins and the Talc baby clothing.
112 North 6th Street
Brooklyn, NY 11211-3050
(718) 218-6946
Mini Jake is Williamsburg, Brooklyn's hip baby design store and sister store to the neighborhood's Two Jakes, its adult counterpart. This 1500 sq foot shrine to baby design is full of some great items to spruce up your baby's room or give as gifts. And, for its size, it is quite a cozy store with little nooks for books, clothing and toys throughout the space. We especially like the kids play areas around the store and cute and affordable Zutano clothing for kids. Check out our Mini Jake review.
178 North 9th Street
Brooklyn, NY 11211
(718) 782-2005