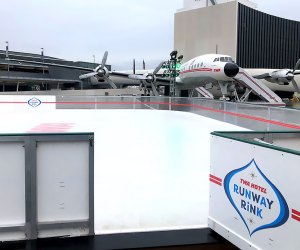 Now Boarding: Ice Skating Rink Opens at JFK Airport
While New Yorkers usually dread going to the airport (thanks to the construction, traffic, and all-around charmlessness that characterize good old LGA and JFK), stepping inside the TWA Hotel at JFK Airport is like taking a well-designed trip down memory lane. As you enter the hotel, you're greeted by classic cars and flight crew dressed in retro uniforms. Just a few steps up is a sprawling white-and-red lounge reminiscent of the 1960s. Those in the lounge have the best view of all: A brand new ice skating rink sitting on the tarmac next to a retired TWA propeller plane.
The newest ice skating option in Queens, the Runway Rink at the TWA hotel opened at the end of November, just in time for the holiday travel rush. Read on for details about the new rink and tips on visiting with kids—it's a winter wonderland worth seeing if you have to be at JFK!
Unlike World Ice Arena in Flushing Meadows Corona Park and City Ice Pavilion in Long Island City, the Runway Rink is outdoors, and is open seven days a week in rain or snow. The 56-by-44-foot rink—made with 3,500 gallons of frozen NYC tap water—is the main attraction of the TWA Hotel's winter wonderland, with fun for the whole family. Make a few loops around the rink, then take a break by the cozy log cabin shop that serves up an array of snacks and beverages.
You may experience some slippery skating conditions, as I found out on my first (rainy) visit. If you're worried about little ones slipping on ice even on a sunny day, the rink provides skating aides for kids learning to skate.
A propeller airplane sitting on the skating rink's tarmac is actually a cocktail lounge (offering kid-friendly Shirley Temples in addition to more adult-friendly libations). The hotel encourages visitors to check out the 1958 Lockheed Constellation Connie airplane, where kids can see the original cockpit with controls and listen to historic recordings of TWA pilots.
"Connie" is also the inspiration for daily ice skating shows at the Runway Rink. Starting December 6, pro twirlers take to the ice for performances Monday through Friday at 6:15pm and 7:45pm, and on weekends at 5pm and 6:30pm.​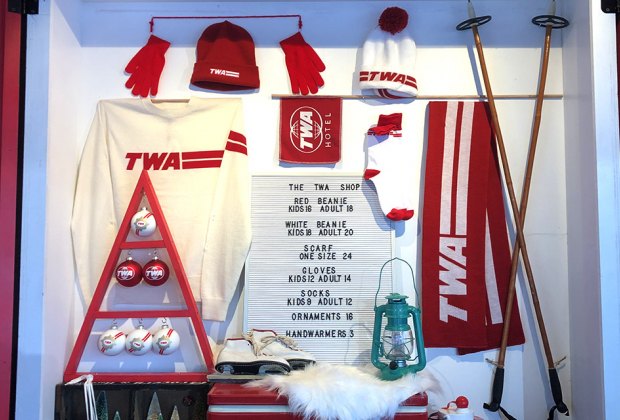 The Runway Rink is open through the end of February, with skating hours 4-9pm Mondays through Thursdays, 4-10pm Fridays, and 10am-10pm Saturdays and Sundays. General admission is $15 and $10 for kids under 12. You can bring your own ice skates or rent them for $10. Skate rentals for kids under 12 are $8.
The rink is located at the TWA Hotel at JFK Airport's terminal 5. Keep in mind that the terminal 5 parking lot is separate from the hotel, and parking fees vary depending on the duration of your stay. The TWA Hotel provides onsite valet parking, which costs $10 up to 30 minutes, $20 up to one hour, and $30 up to two hours. However, if you're planning to dine at the Connie, the Sunken Lounge, or the Paris Café, the hotel will validate parking for two hours.
Photos by the author