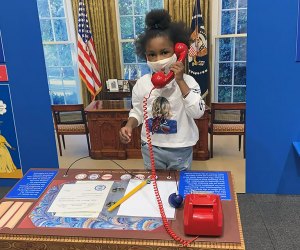 MLK Weekend Best Things To Do in NYC With Kids: Honoring Dr. King, Celebrating the Vote, and More
Martin Luther King Jr. Day is on the horizon and the holiday reminds us the best way to foment lasting change is through language, education, and peaceful protest. In-person programs that thoughtfully introduce kids to King's ideas include volunteering at a local garden Saturday, a walking tour of Harlem on Sunday, and a tribute to the civil rights leader at the Brooklyn Children's Museum on Monday.
The inauguration of a new president is always momentous, and CMOM's Right to Vote exhibit gives kids a solid understanding of our democracy in action and preps kids to tune in and watch Joe Biden deliver his inaugural address.
Poppins@Home is popping with amazing virtual classes and activities this week, including a teen and tween wrap cooking class, free activities from the Westchester Children's Museum, and a Snapology STEAM lab, which explores design, DNA, Minecraft, and more.
Keep a constant eye on the NYC Event Calendar, which is packed with events both virtual and in-person, and our winter fun list of places to go and things to do, wearing your masks and social distancing, natch.
Editor's note: While we are trying to promote safer activities that occur outdoors or with social distancing guidelines in place, please keep your family and others safe by always wearing a mask and maintaining an appropriate distance. If you arrive at an event that appears too crowded, try using the "nearby" search feature on our Event Calendar to find something else to do. Keep in mind, reservations are required for many of these events, so plan your outings in advance, and be sure to click through to our listing for all the details, including address, time, and pricing.