SPONSORED
7 Smart Summer Screen Time and Tech Tips for Families
Summertime often means screen time, amirite? School's out, the days are long, and even moms and dads are feeling a little more laid back. With the relaxed phone, tablet, and TV rules, a media overdose starts to become inevitable without some thoughtful boundaries.
So, how do you make tech work for your family over the summer instead of against it? With a little help from our sponsor, Verizon, we've put together 7 smart tech tips to help your crew make the most of screen time for kids without going over the top.
Bonus tip: Get an extra $200 off a premium device when you sign up to Fios* — not to mention crazy fast internet speeds, custom TV plans for kids and teens, and reliable cell service to keep everyone safe and connected.
Make screen time count.
Not all screen time is created equal. Familiarize yourself with the parental controls on your television, computer, and handheld devices, and don't assume apps and videos are age-appropriate without doing your own homework. To really safeguard screen time, load up a single device with educational apps. The GizmoTablet by Samsung gives kids access to 300 premium learning apps based on age and skill level and allows you to limit usage time. Oh, and parents can exit out of Kids World and use the tablet themselves, giving you that much more bang for your buck.
Turn media time into family time.
Remember that screen time doesn't need to be solo — make it a family affair! Play a video game together and talk about what it means to be a good sport. Pick out a TV show your whole crew can enjoy, or share one of your all-time favorite movies with your kids. Screen time promotes bonding, social interaction, and active learning when you do it together.
Talk to kids about the importance of privacy online.
Once your kids are using social networks, email, text messaging, online gaming, and other interactive media, make sure to talk to them about privacy and safety. Discuss the possible consequences of posting on social media and sharing photos through text and email. Speak with them about appropriate online behavior and check their privacy settings to help ensure they're as well protected as possible.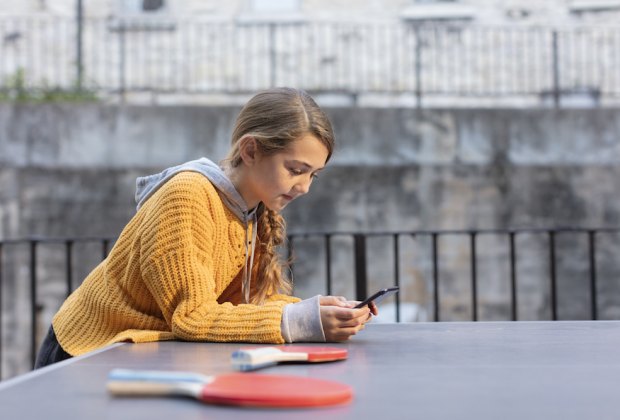 Set limits on phone usage.
Getting everyone to put down their phones can be a battle! Some routers allow you to turn off the home internet, which is one way to combat computer binging, but setting boundaries with other devices can be tough. Verizon's unique Just Kids plan lets you set data limits and also turn data off at certain times (no more sneaky game playing or secret late night texting!). You can also choose contacts, set content filters to control what your kid sees on their phone, and track the device's location from the My Verizon Smart Family apps.
Be a good role model.
If your face is forever buried in your smartphone, it can be that much harder to ask otherwise of your kids. Model good media manners and limit your own screen time to show your children how to behave and engage with technology responsibly.
Keep your little ones phone-free while still keeping tabs.
Before your child is really ready for a phone and the responsibility that comes with it, remember you can track and contact them using other devices. The GizmoWatch is a simple, durable, kid-friendly smartwatch that provides peace of mind by tracking your child's watch while they're on the go. You can also program up to 10 trusted contacts for 2-way voice calls and messaging.
Prioritize plenty of tech-free time.
Unplugged time is an absolute must for kids, and summer is the perfect time for it! Remember that unstructured play is crucial to creativity, and back-and-forth conversation is an important part of language development. Keep family mealtimes, social gatherings, and your kiddos' bedrooms screen free to ensure you're getting in plenty of play time off the grid!
With these handy tips, plus Verizon Fios' fast and reliable network and services, your crew can undoubtedly make the most out of summer screen time. Don't forget to make the switch to Fios now to get $200 off a premium device.
Photos courtesy of Verizon
*For new or existing wireless customers. Must become new Fios res. customer subscribing to a qualifying Fios Double or Triple Play bundle with Fios Internet 50 Mbps or higher or standalone Fios Gigabit Connection. Fios avail. In select areas. Up to $1599.99 device payment purch. req'd. Less $200 promo credit applied to account over 24 mos.; promo credit ends if eligibility req's are no longer met; 0% APR. Limited time offer.