SPONSORED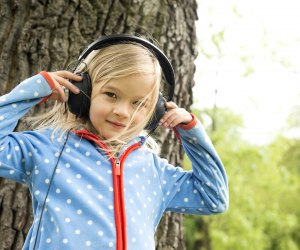 Audio Stories That Entertain Kids Anytime and Anywhere from Pinna
The screen time struggle is real. So, I can't imagine I'm the only parent who's quite literally all ears when they hear that kids' podcasts and audiobooks are officially a thing now. On-demand audio programming certainly feels like the perfect way to bring some screen-free entertainment to playtime, add a little excitement to the bath, or even just wind down before bed, but finding awesome options for kids can be really hard. Enter a new subscription-based service called Pinna, which is packed with Peabody-winning original series, popular podcasts, and favorite audiobooks for listeners ages 4 to 12 — and zero commercials — making it a major parenting win. Read on to find out more and get a free 7-day membership to try it out.
My family decided to tune in to Pinna's "Molly and the Sugar Monster," during a recent long car ride that felt likely to result in a meltdown. The series features a junk food-loving monster whose mission is to stop kids from eating healthy options, and a smart young girl who's always foiling his plans. The distinct and colorful voices instantly caught my daughter's attention from the backseat, although she immediately began searching for the screen the voices were coming out of — go figure! Each episode of the show, which has been designed for 4 and 5 year olds, is just a couple minutes long, making it easy to listen to as few or as many as your preschooler would like. My husband and I got in a couple of good laughs as Molly taunts the monster with her grilled chicken and zucchini-eating ways, and my daughter remained enthralled and tantrum-free while we listened. Later in the ride, while she napped, we ventured into the other age brackets to see what else Pinna had to offer. We challenged ourselves to a fast-paced interactive trivia game called "ExtraBLURT," and dropped by "The KidLit Show" to listen in on a few interviews with best-selling authors. We were impressed by the endless smart, creative, and engaging programming, and eager to try more.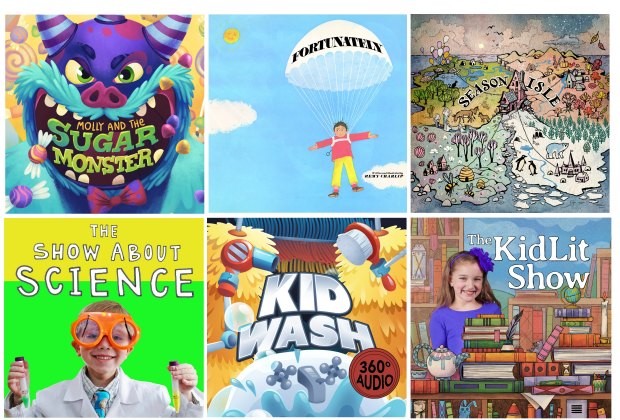 Getting Pinna is easy. Available in the iTunes App Store (with an Android version coming soon), the one-time download and a monthly or annual fee gets you access to unlimited hours of song-filled fictional series, mystery stories for middle schoolers, and science podcasts hosted by seven-year-olds that'll appeal to even the youngest listeners. Shows can be easily browsed by age group, genre, or even activity (think "travel time" or "chore time"). In fact, the selection is so carefully curated that the app has earned a spot in the kidSAFE Seal Program, an independent safety certification service and seal-of-approval program designed exclusively for children-friendly websites and technologies.
The awesome collection of audio shows is specifically designed to spark kids' imagination, with the goal of making the most of the brain's automatic ability to turn spoken words into vivid mental images and ideas (which is pretty much lost when you turn on the good old TV...). One of the creators of the programming at Pinna's parent company, Panoply Media, told the New York Times, "What I love about this space is that it feels much more similar to reading to a child than it does sticking them in front of a screen." Adding that when it comes to podcasts, "they're creating the world." Plus, no ads and no screens means no parenting guilt (phew!).
Enjoy original Pinna shows about science, books, healthy habits, and more!
If you're interested in turning off the TV and giving Pinna a try, you can get started with a free 7-day membership. If you love it, your membership will automatically continue for as long as you choose to remain a member (you can unsubscribe by turning auto-renew off more than 24 hours before the end of the current period). You can choose between two subscription options: $7.99 per month or $79.99 per year. Once you become a member, you'll have access to all of the podcasts and audiobooks at no further cost!
Download Pinna in the App Store to start your free 7-day trial today at pinna.fm/mommypoppins.
Photos via Bigstock