4 Reasons Winnie the Pooh Is a Perfect Reintroduction to Live Theater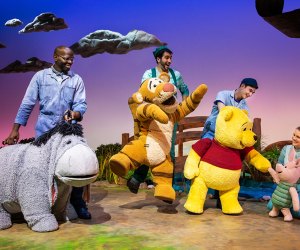 Access to great, kid-friendly theater is one of the perks of raising kids in NYC. And while the industry has been slow to come back from the pandemic, I recently brought my 8-year-old to see the new Winnie the Pooh adaptation playing at Theatre Row, and it turned out to be just the right outing for our return to live entertainment.
Read on for our take on the show and four reasons it's a great first show, whether you're a long-time theater lover or introducing your kids to the stage for the first time.
Subscribe to our newsletters to get stories like this delivered directly to your inbox.



We couldn't resist a snuggly souvenier and came home with our own stuffed Winnie the Pooh.
1. Safety is top of mind.
I'll admit, though I had recently seen my first Broadway show since the pandemic, I had some reservations about bringing my unvaccinated daughter to a crowded theater. Like all theaters, all guests are required to wear masks at all times, and guests ages 12+ must show proof of vaccination. Those under age 12 can attend provided they show proof of a negative PCR COVID test within three days of the performance, or a rapid test within six hours. Even better, the production has made it ultra-easy to complete the test, hiring the practice of Dr. Karen Thorton to provide FREE rapid tests right outside the theater. Testing opens 1.5 hours before curtain time. We arrived early, were the only visitors at the tent, had a negative test result in 10 minutes, and still had time to grab dinner before heading into the show.
2. The story and songs are familiarly enchanting.
Produced by Rockefeller Productions, Winnie the Pooh, Christopher Robin, and the usual cast of Hundred Acre Wood characters, including Piglet, Eeyore, Kanga, Roo, Rabbit, Owl, and Tigger lead theater-goers on a captivating adventure stretching out of the course of four seasons, yet occurring all in a day's time. The running time of 65 minutes packs in plenty of familiar storylines, but keeps young audiences—the show is geared toward ages 3-10—captivated. But, adults take note: The familiarity has bred a loyal following from millennials who have flocked to see the show, too. Kids were outnumbered by adults in large numbers when we attended. Indeed, a musical score from The Sherman Brothers and A.A. Milne is familiar enough you'll likely find yourself fighting the urge to turn the outing into a sing-along.
RELATED: Best Family Theater in NYC This Fall from Winnie the Pooh to SIX on Broadway

Winnie the Pooh is up to his usual hijinksin Winnie the Pooh: The New Musical Adaptation. Photo by Evan Zimmerman for Murphy Made
3. The puppetry is spectacular.
Jonathan Rockefeller is well-known for his puppetry re-creations of iconic characters with both The Very Hungry Caterpillar Show and Paddington Gets in a Jam to his credit, so if anyone was up for the task of bringing this stuffed-with-fluff cast to life in puppet form, it's Rockefeller and his team. We delighted in seeing the detail on each of the main characters, who all looked snuggle-worthy, yet stayed true to their beloved character traits, thanks in large part to the puppeteers who brought them to life, at times seamlessly moving from one character to another without missing a beat. We loved the work of Emmanuel Elpenord, who played Tigger, Eeyore, Rabbit, and Owl and Jake Bazel breathed plenty of love and a little "oh-bother" exasperation into the title character.
RELATED: What You Need to Know About Broadway Shows in 2021 for Kids

We had an enchanting evening in the Hundred Acre Woods.
4. The set—and setting—are just right.
The temporarily renamed Hundred Acre Wood Theatre at Theatre Row provided an intimate setting for the production. None of the seats are too far removed from the action and the set itself is enchanting. When we filed in, we were greeted with a soothing woodland soundtrack of crickets chirping and birds tweeting as we awaited the show. As we watched the scenes unfold on stage, we were tickled by falling leaves, blanketed with fluttering snowflakes, and delighted to see flowers sprout from the stage floor.
Winnie the Pooh: The New Musical Adaptation plays through Sunday, January 30, 2022. Tickets start at $42. A special "VIB" package includes some commemorative swag, plus a socially distant photo-op at the end of the show.
Unless noted, photos by author