Autism-Friendly Big Umbrella Fest Returns to Lincoln Center Next Month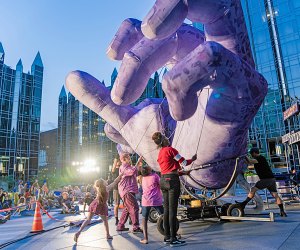 Subscribe to our newsletters to get stories like this delivered directly to your inbox.
The groundbreaking festival, which debuted in 2018, features performances written specifically for children with autism and other developmental disabilities and their families.
The fun kicks off with a Friday night performance from E.P.I.C. Players, a neuro-diverse theater troupe for teens and young adults. An all-ages, all-inclusive silent disco is also planned for opening night and includes wearable tech that allows revelers to "feel" the music and adjust its volume and sensory effects according to each individual's comfort level.

The Swingset Drumkit relies on children's play to create a joyful noise and is coming to Lincoln Center in September. Photo by Federico Villalba/courtesy of Lincoln Center
A pair of weekend-long installations allow kids to interact with sound and texture. The Swingset Drumkit takes over The Deck in Damrosch Park. Swings are attached to large, colorful wheels that propel drumsticks to strike instruments, so kids create a cacophony with each pump or push. In OrchidsPlayscape from artist Sean Ahlquist, and inspired by his own autistic daughter, visitors can play, interact, and touch a collection of textiles with varied textures creating their own sensory playground.
On stage, see Big Hands for Big Umbrella from Squonk, a collective known for its multi-sensory, all-inclusive shows. Audiences are invited to participate as much or as little as they are comfortable with during its performance. A Ballet For All Kids production entitled Écoute pour voir invites audience members to share a 2-3 minute, 1-on-1 exchange with a single dancer. E.P.I.C. Players returns with daily concerts and virtual component is also planned.
Other sensory-friendly perks of the fest include digital social narratives emailed to ticket holders in advance of the event, fully accessible routes leading from one event to another, assistive listening devices, chill-out spaces, noise-reducing headphones, and fidget toys are also available. Socially distant seating is planned, and masks are strongly encouraged for all.
Timed-entry tickets are available closer to the festival date, and visitors can choose to attend a two-hour window beginning at 11am or 2:30pm on Saturday and Sunday. A live performance bookends each window, and there is time to experience the immersive installations in between.