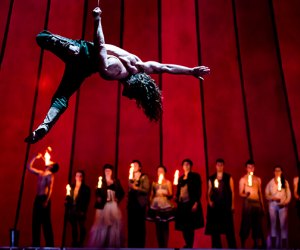 Acrobatic 'Bianco' Circus Opens with Action-Packed Show
Parents tired of hearing the kids whine, "But I can't see!" at every show take note: no boosters are needed at NoFit State Circus' immersive spectacle Bianco. That's because there are no seats and all of the action takes place high up in the air. Set in a sci-fi-looking, 10,000-square-foot big top pitched directly under Brooklyn Bridge Park's namesake structure, Bianco is a rare all-ages show presented by lauded avant-garde performing arts center St. Ann's Warehouse.
While you and your kids are most likely familiar with all of the skills on display—juggling, acrobatics, tumbling, and a variety of aerial acts—you probably haven't experienced them in such an exhilarating and intimate environment. The athletic cast and crew bound through the audience, hooting, hollering and often shoving their way to center tent, where they perform their feats with glee and little clothing. But don't worry: though there's a sexy, party vibe and many exposed six-packs, it's a strictly G-rated affair.
For families who prefer edgy and scrappy neo-circus troupes to the slick razzle-dazzle of Ringling Bros. or Cirque du Soleil, Bianco is a heart-pumping thrill. But there are some important things to know before you bring the kids—you may not need to worry about them running away with this circus, but they could very easily get lost in it.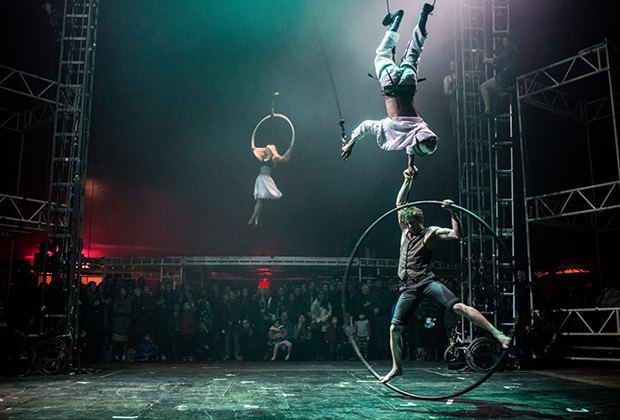 The high-flying show is strictly G-rated, but requires audience standing and movement, so it's best for kids 7 and up. Photo by Teddy Wolff/courtesy of the production.
Before Bianco even begins, there's a lot to explore. You can walk through the entire space, even right up to some of the equipment. While this is exciting, it also means parents need to pay attention: I saw multiple preschoolers trying to climb the various movable scaffolds before showtime. It's important to remind kids that this is not a playground; they can look but not touch.
A live band sets the mood with high-energy electronic music, and some of the ensemble members mingle with the crowd, speaking in their native tongues (though the company is based in Wales, I heard French and Spanish along with English). And then suddenly, the show begins and before you know it, your child disappears in a sea of spectators all jockeying for the best spots. I admit, I just let my 10-year-old go and told her I'd find her at intermission. But if you have younger children who can't be let out of your sight, you're going to need to put them on your shoulders, or push to the front, gripping their hands tightly. Though most of the acts take place up high, there are some floor routines that are hard to see if you're short. Plus the feeling of being in the middle of all these people crushing up against one another can be overwhelming, even for adults. Thankfully, at the performance we attended, the grown-ups seemed pretty cool about letting kids and families through. I'd say ages 7 and older are ideal, though there is no official age minimum and I did spy younger tots at the show, many with earplugs due to the volume.
RELATED: Best Things to Do with NYC Kids: May GoList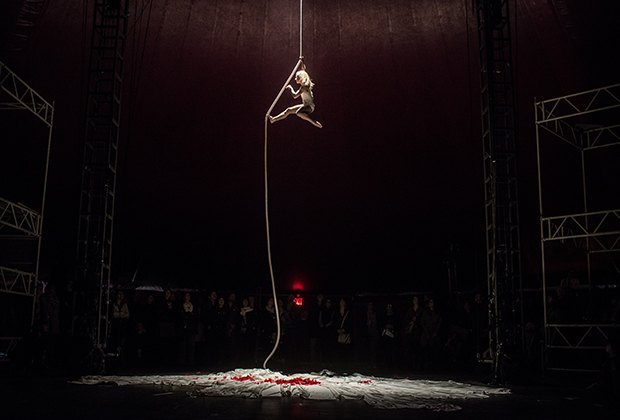 The international cast wows with edgy acts. Photo by Teddy Wolff/courtesy of the production.
While Bianco seems to have a vague narrative—a cryptic voice-over says something about a society plunged into darkness—don't worry about the story and focus on the incredible sights. Many performers shine in solo acts: Junior Barbosa juggling pins while hanging upside-down; Danilo Pacheco's manly silks routine with his cast mates eating fire in the background; François Bouvier shedding his pants while atop the tight wire; Angelique Ross' balletic dance trapeze; and Anne-Fay Johnston dressing for a party while doing handstands. And yet this is a true ensemble effort, with the international company working together to create a seamless, cohesive whole.
A lot of the magic of this production is watching how much work and how many people it takes to put on a circus. Nothing is hidden; the crew is always in plain view, setting up the rigging, pushing the equipment, hoisting the aerialists and herding the audience around so that we're never in harm's way. Although the spectators don't work as hard as the stars, watching Bianco can be a bit exhausting, what with all the standing, moving and craning your neck. Comfortable shoes and light bags are musts.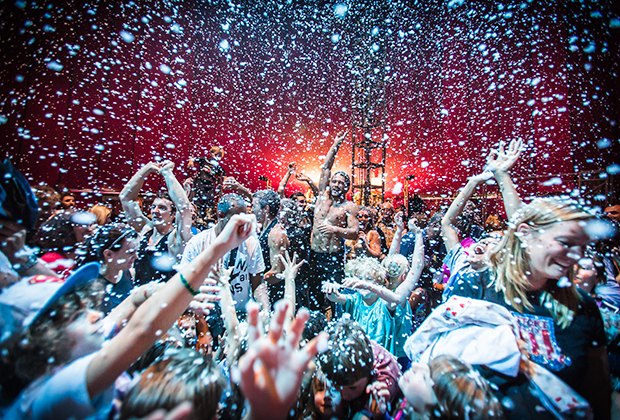 Dazzling human stunts and special touches like a snow blanket for the audience keep everyone engaged. Photo by Andrew Billington/courtesy of the production.
Although Bianco never bores, sometimes a sense of sameness creeps in as the two-hour show stretches on. But just as your mind starts to wander, a breathtaking visual will grab you back, like rose petals falling on an aerialist's 30-foot-plus, sheer white skirt or fake snow covering the audience at the finale. The extraneous, 20-minute intermission slows the momentum (though it does give you a chance to find your kid and take a bathroom break!) but these are quibbles. For circus freaks, Bianco is well worth seeing, especially since the already reasonable tickets can be gotten for as low as $22. A live extravaganza for about the same price as a 3D movie seems like a bargain.
If you're intrigued but can't imagine standing the whole time, you can request folding chairs, though part of the fun is running around the space and checking out the action from different angles. Photos and outside food are prohibited, but the usual overpriced popcorn and beverages are sold on-site. If you want to make a day of it, Bianco is playing at the northern end of Brooklyn Bridge Park, where you'll find the brand-new Dumbo Boulders rock-climbing area, the tasty Brooklyn Ice Cream Factory, Jane's Carousel, the Environmental Education Center and the Main Street Playground, not to mention amazing photo ops of the Brooklyn Bridge and downtown Manhattan.
Bianco is playing through Sunday, May 29 in Brooklyn Bridge Park in the tent under the bridge. Tickets start at $35 but you can save money via Goldstar.
Top photo by Richard Davenport/courtesy of the production.