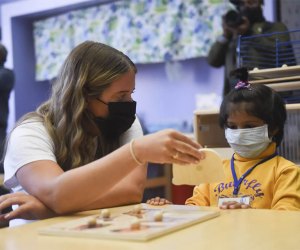 NYC Schools Shutdown: Find Free Child Care, Meals, and More Support
The New York City Public School system's latest shutdown wasn't exactly a surprise to city parents, but that doesn't mean we can't all use a little support to get through this period, however long it lasts. From FREE child care to paid programs and info on FREE meals and DOE-issued devices, here's where New York City parents can turn for help right now.
Be sure to bookmark our Homeschool and Online School Guide for parent-tested tips, tricks, helpful hacks, and more to break up the monotony of remote learning.
How to Register for Free Learning Bridges Child Care
Last spring, the city kept a handful of school buildings open as "Regional Enrichment Centers," offering FREE child care and remote learning support to children of essential workers and more city parents who needed care. As part of its reopening plan, the city promised to make 100,000 FREE child care slots available at Learning Bridges sites, meant to provide coverage on days students were not attending in-person classes. Thus far, the demand for these slots, which are operated by community-based organizations, has been far less than that number, but Mayor Bill de Blasio promised there was room to scale the program to meet an increase in demand given the school shutdown.
Families interested in applying for a Learning Bridges slot can fill out this survey, and they will be contacted about placement. Preference is given to children of essential workers and those in shelters, but the mayor said there is currently space available.
Where to Find Paid Programs for Remote Learning Support During NYC's Public School Shutdown
Last fall, we outlined steps for creating a learning pod. Whether you decide to go this route or need child care help during the school day, consider turning to one of these local organizations offering programs for pods and remote learning support. Some spots, like Queens' Playday and Upper Manhattan's FunFit Kids Beyond the Bell program, provide a de facto school day schedule, complete with tech support for those daily class call-ins.
How to Request DOE-Issued Devices for Remote Learning
The DOE has set up a Remote Learning Device Request to ensure all children have access to appropriate technology to access remote learning lessons. If you have not already done so, fill out the form, and the DOE or a representative from your child's school will make arrangements for device pick up.
RELATED: 10-minute Recess Breaks for Remote Learners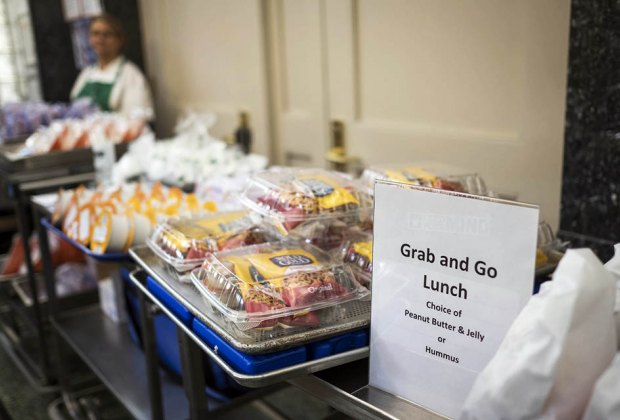 Free grab-and-go meals are available to NYC schools families and the greater community, too. Ed Reed/Mayoral Photography Office
Where to Find FREE Meals During NYC Schools Shutdown
All school children and their families can pick up three free grab-and-go meals daily at DOE buildings from 9am-noon. Halal and kosher meals are available at selected sites.
Community meals continue to be offered at select locations citywide for the general public from 3-5pm Monday-Friday.
With Thanksgiving on the horizon, it's worth noting that meal service is not available on the holiday or the Friday after.