New Schools Opening in NYC This Year
New York City is always changing, and so are our schools. Despite longstanding, ongoing debates over standardized tests, overcrowding, and tuition costs, there are also some exciting new developments in early education here in NYC. In classrooms across the city (and across the country), project-based learning, a focus on global citizenship, and child-centered education are all trending, as we look toward a future in which the jobs our children will need to be prepared for most likely haven't even been invented yet.
Staying on top of educational trends may seem difficult, especially in the ever-evolving world of NYC schools, but the Mommy Poppins NYC Public and Private School Listings Guide can help. For an up to date listing of schools in your area visit our School Directory Listings, and in the meantime, read on for the latest about new schools opening in NYC.
Throughout the 2018-2019 school year, 21 public schools are slated to open across the five boroughs. There are new middle school offerings, a newly renovated Hebrew Charter School in Harlem, Mandarin meets Montessori at the Polis World School, and WeWork introduces WeGrow a new entrepreneurial school in Chelsea.
New Charter Schools
Harlem Hebrew Language Academy Charter School —Harlem
147 St Nicholas Avenue
Harlem Hebrew Language Academy Charter School is affiliated with the Hebrew Public network of schools. Hebrew Public works with public charter schools and planning groups that focus on Hebrew culture and language instruction. Harlem Hebrew opened its doors in the fall of 2013. In the fall of 2020, it will serve students in grades K-8. Their middle school opened in the fall of 2018, serving 6th graders, and will add a grade each year until the middle school spans grades 6-8. It is located in a newly renovated building with upgraded facilities including a large gym and auditorium, full-sized cafeteria, music room, and bright classrooms.
Staten Island Hebrew Public — North Shore, Staten Island
Staten Island Hebrew Public is scheduled to open in the fall of 2020. The school will be located in Ocean Terrace on the North Shore of Staten Island (Community School District 31). It will be a free, public charter open to all age- and grade-eligible students residing in Staten Island. The school will serve students in grades K-1 during the first year, with the potential to house students in grades K-5 at full capacity.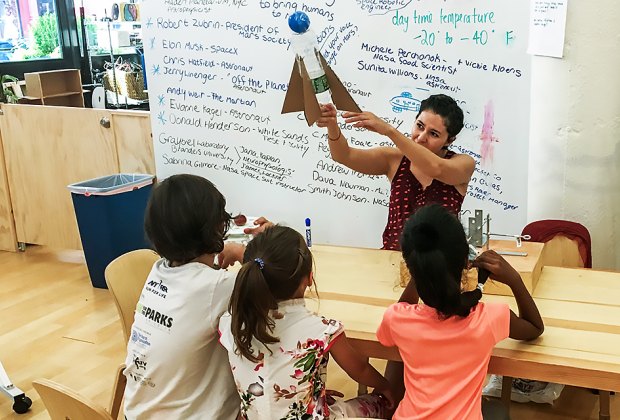 Mixed-age learning allows for social-emotional growth due to more interaction amongst age groups at the Portfolio School. Photo courtesy of the Portfolio School
New Progressive Schools
Portfolio School — Tribeca
27 N Moore Street
The founders of the Portfolio School had the future of their own children in mind when they set out to "reinvent education" and develop a project-based school. This micro school houses 24 students, with multiage classrooms in which individualized learning and work periods accommodate long-range projects and self-paced mastery of core skills. There are no standardized tests here—instead, the Portfolio School emphasizes collaboration, teamwork, and the social-emotional components of learning. "We get to know each and every child well because we are small and constantly assessing and evaluating not only reading, writing, math, etc. but how they deal with failure and applying knowledge in a new situation. That adaptive expertise will set our students apart in the future," shares co-founder Doug Schachtel.
Children and teachers document student work, which is shared in digital portfolio parents can access from work or home. The Portfolio school opened in fall of 2016 and is scheduled to relocate next year into a larger space that will accommodate up to 80 students. Every year it will add a grade level until it is a K-12 school (6th grade will be added next year). Check their website for open house and daytime parent tours.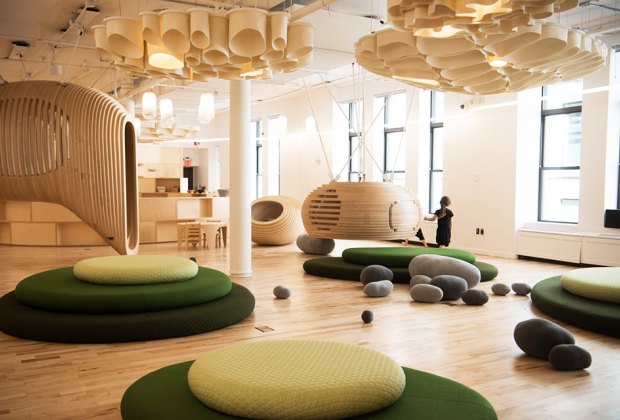 WeGrow nurtures the child's education through introspection, exploration and discovery.
New Montessori Schools
WeGrow — Chelsea
110 W 19th Street
Global citizenship, mindfulness, and nature as a teacher are the foundational curriculum principles for this new micro school. WeWork, best known as organizers behind entrepreneurial community spaces citywide, have moved into the field of education based on traditional Montessori instruction. WeGrow opened its doors in the fall of 2018, serving children ages 2-12 in New York City. It touts itself as "a conscious, entrepreneurial school" where children spend time in their innovative space (designed by the Bjarke Ingels Group) in Chelsea, visiting a farm in upstate New York, and being mentored through WeWork partnerships.

Polis World School prides itself in providing a peaceful oasis where young children can thrive. Photo courtesy of Polis World School
Polis World School
12 East 79th Street
Dual-language education is a major focus at Polis, thanks to their Montessori prepared environment, hands-on materials, and native Mandarin-speaking guides. Polis World School prides itself in providing a peaceful oasis where young children develop the skills and learn subject matter necessary to become capable, confident adults. "A particularly exciting aspect of our program is the way in which we integrate extended classroom opportunities into our curriculum," says Monna Istranyi, the National Director of Admissions at Polis World School. "Students frequently visit museums, restaurants, and shops as part of learning beyond classroom walls."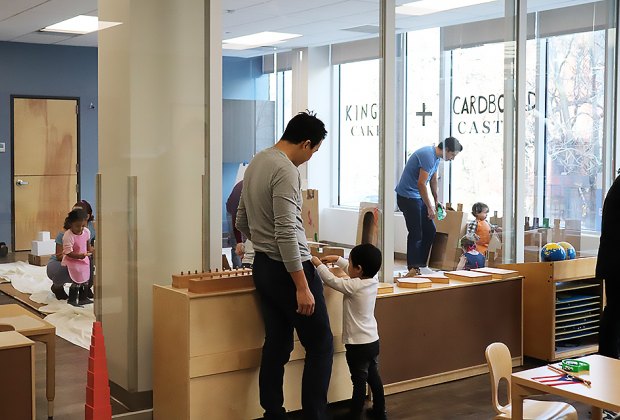 Community is a big part of Guidepost Montessori and parents and caregivers are always welcome and included. Photo by Bella Shaulova
Guidepost Montessori — Williamsburg, Brooklyn
717 Driggs Avenue
Guidepost aims to create a purposeful, self-guided learning experience, where the child inspires the journey. At Guidepost Montessori, teachers continuously update their skills through in-house professional development, and parents are kept up to date on their child's progress through digital resources and teacher engagement. Guidepost Montessori is scheduled to open its doors in March 2019.