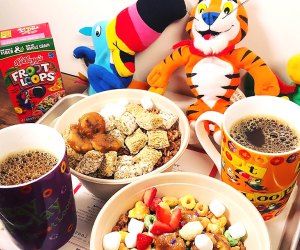 Kellogg's NYC Moves Its Cereal Cafe to Union Square
Union Square supplies NYC parents and caregivers some solid havens. There's the newly renovated equipment at Evelyn's Playground in the summer to shake out those willies. The warmth of Barnes & Noble in the winter will keep you cozy and entertained. There's the promise of candy dreams at Dylan's. And in between, you can even sneak in some serene minutes at the Union Square Greenmarket.
And now Kellogg's NYC has given parents in the area a new, tasty and delightful option. Moving from its former location in Times Square in December, the updated 2,000-square-foot eatery is five times larger than the last—offering more fun and more tastiness.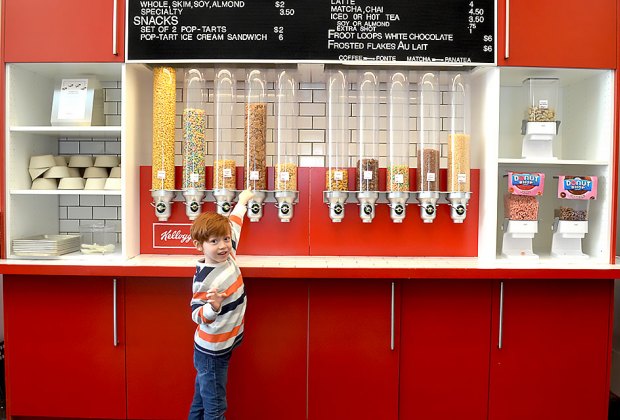 Children can fill their bowls to the brim with as many cereal choices as their heart's desire. Photo by the author
My 5-year-old son and I entered the second-floor Kellogg's NYC and were met with a light, airy ,and cozy café. A subway-tile interior with brightly decorated walls lend to the retro and fun atmosphere.
The open-concept kitchen, the DIY Cereal Bar and Unlimited 30+ Toppings Bar, the Instagram Station, and first-to-try product launches are just a few of the new things customers can expect. But fans of the old location don't have to worry. Favorites off the original menu can still be found at the Union Square location alongside some new and inventive creations. This cereal-lovers' destination is the perfect place to grab a light breakfast, catch up with friends, read a book, or take a date for ping-pong. It's coffee-bar-meets-cereal-bar, and it not only satisfies the young but also the young-at-heart.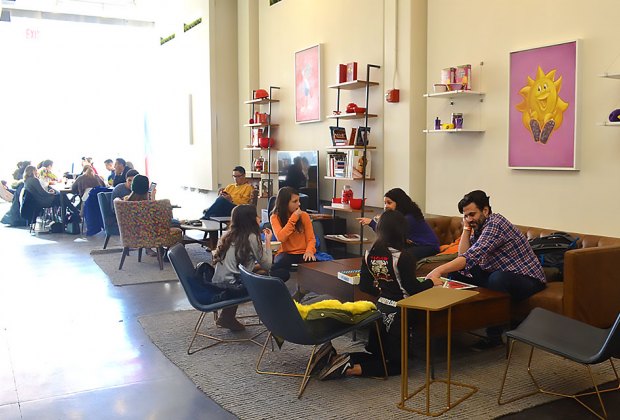 Each seating bay at Kellogg's NYC is decked out with a cereal mascot theme.
Each seating bay of the open-floor plan is dedicated to a specific cereal. There's the Froot Loops section, the Frosted Flakes section, and so on. Each contains board games and cozy couches that encourage customers to stay awhile. There is also a swing-seat section and a beanbag are that are prime for hours of laptop use.
RELATED: Destination Playground: New Union Square Playground

My son loved eating his cereal creation at the fun, retro counter. Photo by the author
We decided to sit at the counter, with a much more retro-diner-feel. Kellogg's offers a small but creative menu with made-to-order cereal combinations like the Bananas Foster (Special K & Frosted Flakes topped with rum-roasted bananas, cajeta, and candied cashews). Or you can concoct your own recipe to be custom-made for you. My little picky eater decided to head over to the DIY section with the Unlimited Toppings Bar. Topping include delights like freshly baked cinnamon bun croutons and candied kumquats.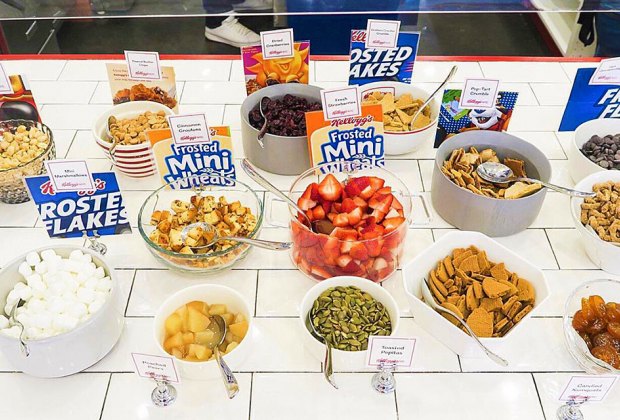 Toss on as many toppings as you like!
Customers at the cereal buffet pick up a tray and make any cereal combination they like. It's not by weight but by bowl, SO FILL UP. If you go without toppings, it's a mere $1.50—a great choice for toddlers with little bellies. My son had his heart set on a more artistically brave creation: Raisin Bran, mini marshmallows, strawberries, chocolate chips, and rainbow sprinkles. (He liked it.)
A cereal bowl with unlimited toppings is $4. Milk is additional. Kellogg's makes its own in-house strawberry milk and peanut butter milk, but we went with classic organic low-fat milk from Horizon.
RELATED: Best Hot Chocolate Spots Around Manhattan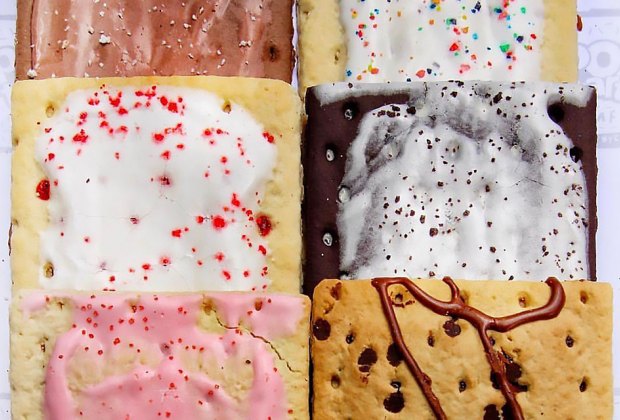 It's not just cereal at Kellogg's NYC. Pop-Tarts are on the menu!
The breakfast treats don't stop there. The moment I heard it had Pop-Tarts, I had to have the classic Frosted Strawberry—a childhood favorite that got me through freshman year of college. My son and I toasted them ourselves at a cute toaster kiosk. He'd never seen a classic slice toaster before.
It also offers additional packaged treats from vendor Treat House, which exclusively makes a Rice Krispie donut just for Kellogg's NYC. The ice cream sandwiches are made from NYC-local favorite OddFellows Ice Cream Co.
I was happy to see there's a full espresso bar for the grown-ups, complete with some yummy house specialties like the Fruit Loops white hot chocolate and the Frosted Flakes café au lait.
After filling up on our treats, we headed to the back room for a few rounds of ping-pong. No need to sign up or reserve the room; it's first come, first served.
If your love for cereal extends farther than a quick breakfast, the location also hosts birthday parties. You can have a cereal-making station, a pizza party, or a visit from Tony the Tiger himself. Visit the website to inquire on prices and details.
My son and I had a lovely time. Although not a destination for a full-meal beyond breakfast, Kellogg's NYC is surely a great place to rest your feet, grab a snack, and relax.
Things to Know:
Kellogg's NYC is handicap and stroller accessible. The elevator is at the 36 E. 18th St. entrance.
There are no high chairs available, but most seating is low, coffee table height.
There are two public, gender-neutral, bathrooms, both equipped with changing tables.
There is plenty of space to park your stroller.
CREDIT CARDS ONLY. Cash is not accepted, but there are a number of banks/ATMs around Union Square.
Kellogg's NYC is located at 31 East 17th Street and is open Monday through Friday, 8am to 6pm; Saturday, 9am to 6pm; and Sundays, 10am to 4pm.
All photos courtesy of Kellogg's NYC unless otherwise noted.
Kellogg's NYC
31 E. 17th St.
New York, NY 10003