Check Out This Retro-Fitted Pier on the East River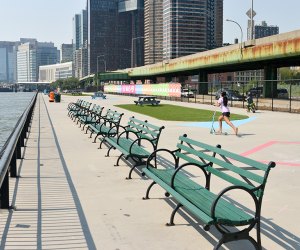 In an annual rite of summer passage, NYC Parks has been revamping local swimming pools through its Cool Pools program and has now turned its brightly colored paintbrushes toward a new medium. New Wave Pier recently debuted on the East River Esplanade, giving a bright, new life to an underutilized public space.
Subscribe to our newsletters to get stories like this delivered directly to your inbox.
Located on the East River from East 38th Street to East 41st Streets, the spot, formerly known as the Waterside Pier, got a colorful new paint job, as well as some extra enhancements.
RELATED: 10 Nature-Themed Playgrounds in NYC for a Fun Fall Romp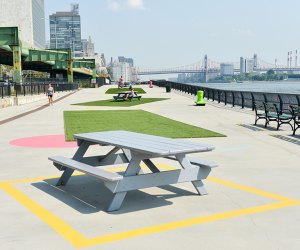 The temporarily renamed "New Wave Pier," with its colorful new design, has new passive turf areas, and picnic tables.
In addition to the cosmetic upgrades, visitors to the pier find turf patches for passive recreation and picnic tables where you can take in sprawling views of the East River and Long Island City in the distance.
RELATED: Bryant Park and More Midtown West Parks and Playgrounds to Visit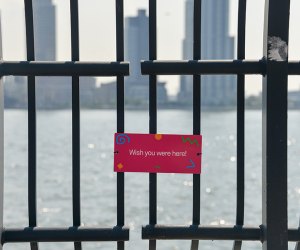 "Wish You Were Here" signs are translated into 25 languages and hung along the waterfront.
In a nod to its location as a neighbor to the United Nations headquarters, visitors can peruse signs proclaiming "Wish you were here," in 25 languages spoken within the five boroughs.
Less visible, but vitally important, the upgrades provide more access to open space for area residents as the East Side Coastal Resiliency Project, which provides flood protection and mitigation strategies is ongoing, and thus limiting access to traditional waterfront recreation spaces.
Photos by NYC Parks/Daniel Avila