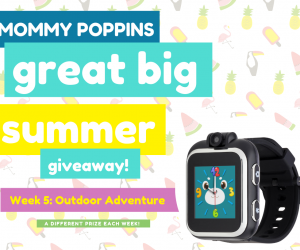 Enter to Win an Outdoor Adventures Prize Pack
Get ready to explore the great outdoors with our week 5 Mommy Poppins Great Big Summer Giveaway Outdoor Adventures Prize Pack. We have everything you need to take your first step on a hiking trail or discover the wonders in your backyard. Two lucky winners will receive one PlayZoom smartwatch and a bundle of outdoor activity books. A third runner up will win a PlayZoom smartwatch. So, fill up your water bottles 'cuz we're going on an adventure. This prize package is recommended for ages 4 and up.
Our Outdoor Adventures Prize Pack includes:​
The iTouch PlayZoom Smartwatch for Kids comes with features such as a camera, video, voice recorder, fun learning & active games, photo effects, sound animations, stopwatch, alarm, timer, calendar and more. Connect it to your computer to download your pictures and videos. The PlayZoom does not connect to a cellular device and is kid safe.
Inspire outdoor adventures with books from Quarto Publishing and Falcon Guides
"Outdoor Science Lab for Kids" makes it fun and easy to dig into the natural sciences and learn more about the world around you. There are 52 family-friendly labs designed to get you and yours outside in every season.
It's time to rewild the child! "Forest Club" has forest school-themed crafts and activities for all seasons, outdoor exploration can be enjoyed 12 months of the year, always with something new to see.
Get ready for the journey of a lifetime...up in the sky! "Bird's Eye View: The Natural World" takes you on an amazing, fact-filled aerial journey around the world with stunning views of is landscapes, and the animals and plants that live in them.
"The Lost Book of Adventure" details extraordinary adventures and escapades, expedition advice and survival methods, annotated with enchanting coloured-pencil drawings.
"Sticks and Stones" presents a treasure trove of building and engineering ideas for children to employ in the great outdoors using the materials made readily available to them.
In "Do Princesses and Super Heroes Hit the Trails?" our princess and superhero hit the trails together on a lively trek through twelve of our National Parks.
Be an adventurous kid! 101 Outdoor Adventures to Have Before You Grow Up offers up season-by-season activities, games, and challenges to get kids in the outdoors and loving it.
"Hike it Baby" presents 100 outdoor adventures across the U.S. that you can take with babies and toddlers (really!), along with everything you need to know about exploring the natural world.
"Trail Mix" is a collection of quotes, poetry, and passages from classic books that provide outdoor inspiration to those in the woods, on the mountain, beside the water, or at home.
A celebration of athleticism, wisdom, and skill - "Women Who Hike" profiles over twenty of America's most inspiring women adventurers ranging from legends to the rising stars of today.
Lace up your boots and sample some of the best trails in New England with "Hiking Connecticut and Rhode Island".
Enter to win below. All entrants will be signed up for your selected free Mommy Poppins local family activities newsletter or national family travel weekly. Current subscribers won't receive duplicates. After you enter, share with your friends for even more chances to win!
See all our giveaways on our Great Big Summer Giveaway page.