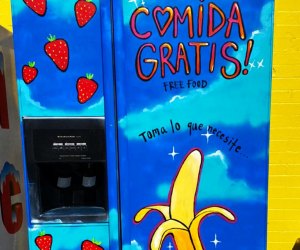 Volunteer With Mott Haven Fridge to Deliver Free Food to Needy Neighbors
As the so-called "Summer of New York City" approaches, and the city rebounds from the effects of the pandemic, there's still plenty of work to do to ensure all New Yorkers are on an even footing. A lack of access to healthy foods was particularly problematic during the pandemic, and the need persists, but local org Mott Haven Fridge is building a network of FREE fridges all across the Bronx and Upper Manhattan and looking for a few good volunteers to help keep them stocked.
Read on for details on this family-friendly volunteer opportunity, and find more ways to make giving back a part of your summertime routine.
Subscribe to our newsletters to get stories like this delivered directly to your inbox.
What Is The Mott Haven Fridge?
Mott Haven Fridge is a community organization that is changing lives by providing fresh food to community refrigerators in need. The organization utilizes volunteers to distribute fresh produce from the Hunts Point Terminal Market to a network of community refrigerators located throughout Upper Manhattan and the Bronx.
OUR LATEST VIDEOS
Donated fresh produce is available 24/7 for families in need. Specifically, these local refrigerators are providing food in places where traditional food pantries closed down during the COVID-19 pandemic.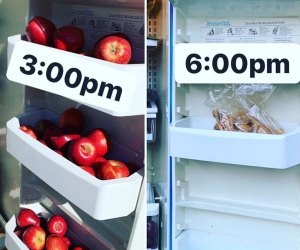 A side-by-side picture illustrates how quickly food turns over in Mott Haven Fridge locations.
"Simply put, we're building a volunteer-powered last-mile food distribution network serving neighbors in need who can't get access to traditional food assistance programs," says Dan Zauderer, Mott Haven Fridge co-founder. "We're doing it with an army of volunteer mom drivers!"
Zauderer, a sixth-grade teacher in the South Bronx, started Mott Haven Fridge with a co-worker in September 2020 after personally witnessing the rising issue of food insecurity when school cafeterias and other food distribution sites shut down during the pandemic. The organization is passionate about scaling its grassroots food justice work and making it more sustainable for families in need, and is working toward registering as a 501(c)(3) nonprofit. "Together, we'll end food insecurity in NYC, and we'll do it in a more dignified and more equitable way," Zauderer says.
RELATED: 19 Teacher Appreciation Gifts for The Hardest Year Ever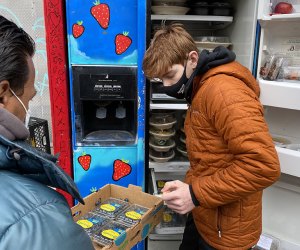 Volunteers stock a Mott Haven Fridge with fresh fruits.
How To Volunteer With the Mott Haven Fridge
If you're wondering who transports the fresh produce from the parking lot to the community fridges, the answer—for the most part—is moms and their kids! This family activity is one that can be fun and impactful for all ages. Since the pickup and dropoffs locations are outdoors, it's a pandemic-safe way to give back.
Volunteering at the Mott Haven Fridge lets big-hearted NYC families make an impact in the lives of others. If you have 1-2 hours on a Saturday, sign up.
"While loading the fridges, my son couldn't believe that much of the food didn't even make it into the fridge because people were lined up to take it," says Stacey, a local mom and volunteer driver. "I am sure that there are other families who would be interested in this service work. It requires a driver, a car, a big heart, and a few hours on a weekend. I wish that I had known of this opportunity sooner."
Mott Haven Fridge has opportunities for volunteers throughout the week, too. If you don't have a car, there are plenty of ways to help grow the community. You can help load items into other cars or help with community outreach, fundraising, or social media support. The organization is currently recruiting summer interns and can validate community service hours.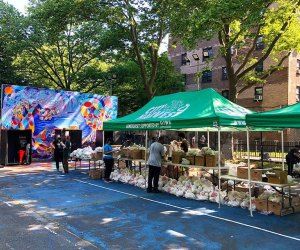 City Harvest's mobile markets create safe, efficient distribution of fresh, nutritious food, free of charge, to hundreds of families.
More Local Volunteer Opportunities for NYC Families
City Harvest has been named an "essential service" during the COVID pandemic. This organization has a mission to end hunger in NYC by providing communities with food assistance. It sponsors volunteer opportunities for food rescue and distribution events. Due to the pandemic, there is an updated policy and questionnaire for all volunteers to review before signing up for a Zoom orientation to begin the volunteer process. Most volunteer opportunities are for tweens and up, but you can email volunteerservices@cityharvest.org for more information on youth volunteering services.
Heralded as "The Way to Volunteer," New York Cares provides numerous volunteer opportunities for NYC families to join. There are ways to donate, volunteer, and support families in need. You can deliver meals, package food, and move items. Be sure to select the "Family Friendly" option to narrow your search to kid-friendly opportunities. Times, locations, and available spots are all listed next to each organization.
NYC Mamas Give Back is a growing organization that supports NYC families, children, and expectant mothers who are faced with homelessness and poverty. Run by moms and open to volunteers, NYC Mamas Give Back is looking for volunteers to help with donations, pickups, and deliveries to local shelters, storage organization, and event volunteering. You can fill out the form on its website to get started.
This well-known organization has been supplying home-bound New York City seniors with food, friendly visits, and items that cultivate joy. Especially during the COVID pandemic, when isolation and access to food has been exceptionally challenging, Citymeals continues to provide the elderly with essential meals and connections. Children can deliver meals with their family members. They can also engage in craft activities at home by making handmade cards to send to residents.
This organization has been serving NYC families in need for the past 10 years. Its website offers 10 Ways to Help, including limited volunteer opportunities at its warehouse in the Brooklyn Navy Yard. For an at-home option, you can shop its wish lists, host a diaper drive, or donate your new or gently used items for newborns to age 5.
Photos courtesy of the organizations