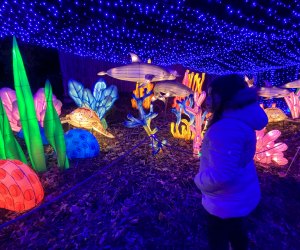 Holiday Lanterns and Light Shows in NYC for 2020
New York City really knows how to light up for the holidays, from holiday windows to seasonal decor and towering trees, the city that never sleeps sure sparkles during the Christmas season. And, lucky for us, that's not all: There's even a trio of outdoor holiday lantern shows and seasonal light displays, which offer a perfect, safe holiday escape in 2020.
Read on for details on the holiday lantern shows on Randall's Island and at the Bronx Zoo, plus details on the brand new light installation taking over the New York Botanical Garden grounds this season.
Editor's note: While we are trying to promote safer activities that occur outdoors or with social distancing guidelines in place, please keep your family and others safe by always wearing a mask and maintaining an appropriate distance. If you arrive at an event that appears too crowded, try using the "nearby" search feature on our Event Calendar to find something else to do. Keep in mind, reservations are required for many of these events, so plan your outings in advance, and be sure to click through to our listing for all the details, including address, time, and pricing.
A word to the wise, since lantern festivals take place outdoors and are best visited after sundown (when the lights really start to pop), be sure to bundle up and wear comfortable shoes. And because the terrain can be uneven or even muddy, consider leaving the stroller at home. Finally, don't forget to charge your phone—you'll want to take lots of pictures!
RELATED: Holiday Displays and Drive-Thru Christmas Lights Near NYC for 2020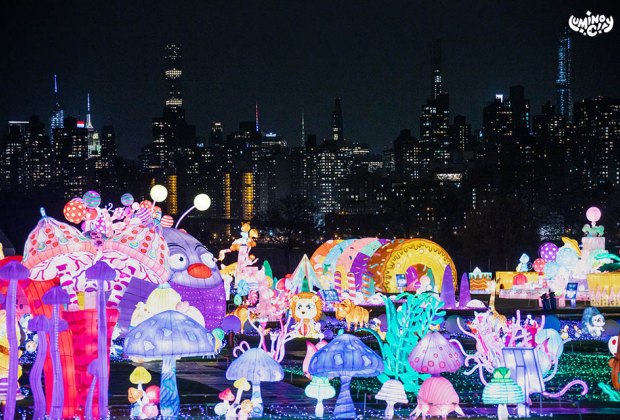 The LuminoCity Festival on Randall's Island is an immersive wonderland of lights. Photo courtesy of LuminoCity
Select dates from Friday, November 27 through Sunday, January 10, 2021
$17 for children ages 3-12; $29 and up for adults; children under 3 are FREE
From the organizers of Houston's Magical Winter Lights, LuminoCity returns to Randall's Island for an encore of its 2019 performance. Covering 10 acres of parkland, LuminoCity brings a brand new theme and never-before-seen lantern installations to the 2020 display. A trio of themed "parks" are brought to life in lantern form inspired by history, magic, and the natural world. A few features have been removed from the 2019 experience, including the holiday tent and winter stage. Food trucks are on-site serving festive food and drinks. Timed-entry tickets and temperature checks are required prior to entry, and masks must be worn at all times.
RELATED: Must-Do Holiday and Christmas Events for New York City Kids in 2020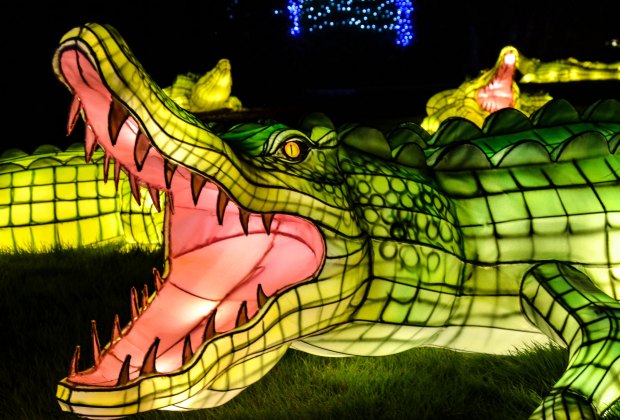 Animal lanterns and illuminated decorations light your visit through the Bronx Zoo this season. Photo by Jody Mercier
Select dates through Friday, January 10, 2021
$23 for children ages 3-12; $35 for adults; children under 3 are FREE
The Bronx Zoo's Holiday Lights made a triumphant return last year following a 10-year hiatus. Their reappearance, with green-certified lights and wildlife-themed lanterns and LED displays proved to be a big hit. A new Luminous Garden debuts this season, with tons of colorful characters, plus bright flowers, butterflies, and playful, illuminated puppets to interact with. The Christmas tree at Astor Court offers a stunning LED light show with the zoo's residents as its inspiration. Ice carving demos, costumed characters, and s'more stations add to the appeal. Timed-entry tickets and face masks are required.
RELATED: 12 Christmas Towns and Holiday Villages That Sparkle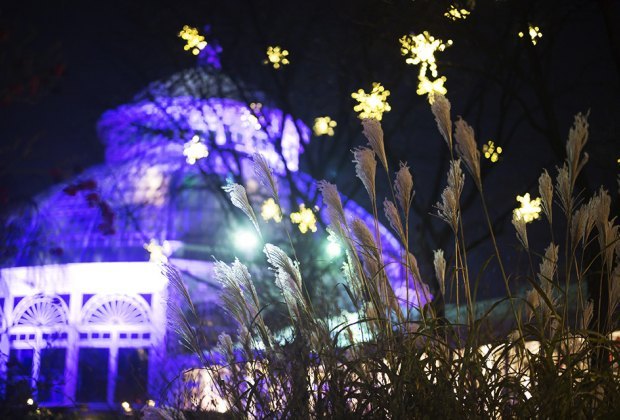 The New York Botanical Garden lights up with plenty of holiday cheer and spectacular, twinkling lights. Photo courtesy of NYBG
NYBG Glow – Bronx Park, the Bronx
Select dates from Friday, November 27, 2020, through Saturday, January 9, 2021
$18 for children ages 2-12; $30 for adults; children under age 2 are FREE.
We usually flock to the NYBG this time of the year for its popular annual train show, but to observe social distancing, the train show attendance is limited to members in 2020. Instead, the NYBG offers a new, outdoor, holiday light show to visitors. The Enid A. Haupt Conservatory is the sparkling centerpiece, acting as a canvas for brilliant shining lights, but festive displays are located throughout the garden. Enjoy ice sculptures, pop-up performances of The Hip Hop Nutcracker, and live music. Timed-entry tickets and face masks are required.
A version of this story was first published in 2019. It has been updated for 2020.