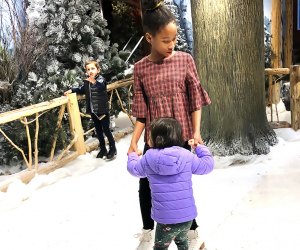 Free Skating, VR Sleigh Rides, and Gingerbread House at Bloomingdale's
Bloomingdale's, the iconic department store known for its dazzling holiday window displays, has a Santa's-sack-worth of festive delights in store this season. After marveling at the Grinch-themed holiday windows, just unveiled last week, and taking a turn on the Who-ville karaoke microphone to belt out a round or two of "Jingle Bells," head inside for even more fun and surprises.
This year, the store has opened an adorable, FREE indoor skating rink (complete with a hot chocolate bar), as well as a life-sized gingerbread house display, and a virtual reality experience that lets you take a ride on Santa's sleigh. For a peek inside this pop-up winter wonderland, read on.

Set down your shopping bags, get a pair of free skates, and go for a spin
In the Ralph Lauren Men's department on the lower level, you will find a mini indoor skating rink that's prime for photo ops. The "ice" in the rink is created from a slippery coating painted onto white floorboards, which authentically recreates the feeling of gliding gracefully in a pair of ice skates. Free skate rentals are available for adults and for children size 11 and up, and free delicious cups of hot cocoa are served up from Ralph's Coffee pop-up right next to the rink.
RELATED: 30 Free Holiday Events for NYC Kids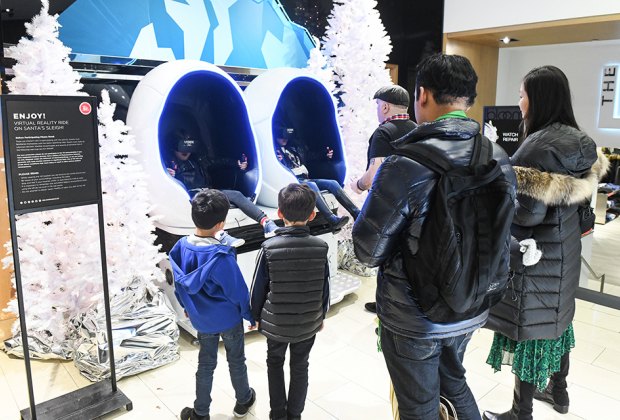 Virtual reality fans can sit inside cozy snow pods and get whisked away into a virtual sleigh ride experience. Photo by Joe Schildhorn for BFA via Bloomingdale's
Just around the corner from the skating rink, take a seat inside an egg-shaped chair and buckle up for a thrilling (and free!) virtual-reality ride on Santa's sleigh. The exhilarating experience starts with a view of a starry night sky, complete with a big, glowing full moon that is seemingly within arm's reach. Look down, and you'll see your own snug red Santa suit trimmed in white fur. The scenery is nothing short of breathtaking, and the feeling of flying through the air will knock you off your feet (in fact, the staff will literally warn you not to kick too much during the ride).
RELATED: 15 Must-Do Holiday Events for NYC Kids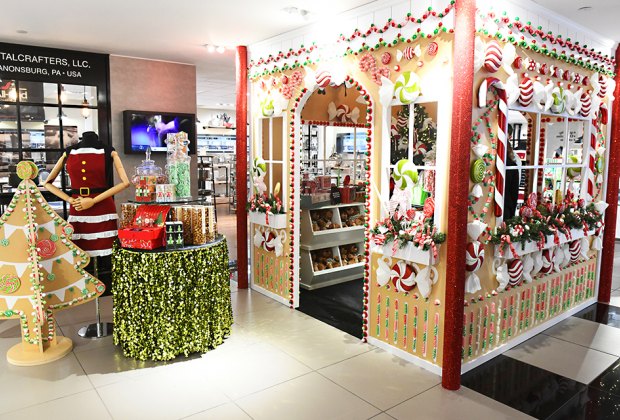 A life-size gingerbread house decorated with real candy ornaments is a magical experience for kids. Photo by Joe Schildhorn for BFA via Bloomingdales's
Another sweet surprise awaits on the eighth floor: A giant gingerbread house, where kids and adults can cozy up on a little loveseat inside and gaze all around at the colorful candies that adorn the walls. This immersive holiday experience is a great warm up to launch a season of festive cheer.
The Bloomingdale's ice skating rink, VR sleigh ride, and gingerbread house will be available for your enjoyment through the end of December. Go soon, before the holiday shopping crowds get busy!
Unless noted, photos by the author