News: Free Ice Cream in NYC, South Street Seaport Museum in Jeopardy, New Downtown Candy Shops, Operation Backpack Kicks Off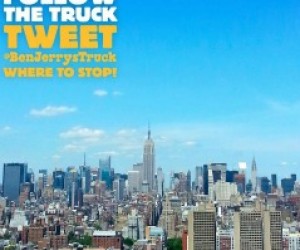 Summertime and the living is sweaty. But even the heat can't slow down the news in NYC. This edition of our biweekly links post is truly bittersweet as we welcome a trio of new sweet spots, share the scoop on free ice cream, bid goodbye to a favorite down kid spot, ExerBlast, and follow the continuing saga of the currently closed South Street Seaport Museum. Plus, find out how you can help schoolkids in need via Operation Backpack and check out a cool crowdfunding campaign to launch a huge indoor play space in Red Hook, Brooklyn.
Sad Goodbyes Of course for every new business that opens in NYC, another seems to fall by the wayside. High-tech family gym ExerBlast, which we raved about when it opened in Tribeca a few years back, has pulled the plug. The owners hope to reopen at another location in the near future and will be offering preschool birthday parties starting this fall at Reade Street Prep. Sign up for the email list for updates. Meanwhile, though it sounded like the end for the struggling South Street Seaport Museum a few weeks ago, NYC has stepped in to save the day—at least temporarily. Three city officials will try to find a way to help the institution stay afloat, though it currently remains closed to the public. Finally after four decades the Metropolitan Museum of Art has done discontinued its metal admission buttons due to financial and environmental concerns. You now get entry stickers. How long before those old buttons show up on eBay?
Helping Kids in Need The 10th annual Operation Backpack kicks off this coming Monday, July 15. The drive collects knapsacks and school supplies for children living in NYC's homeless and domestic violence shelters. Find out which supplies are needed across all grade levels and stuff a backpack or two. You can drop them off at any Duane Reade store in the five boroughs from July 15 to August 9. It's a great way to get your kids involved in helping others while you shop for your own family's school supplies.
Pay to Play While Brooklyn boasts lots of cool play spaces, beyond the ball pit at Ikea, Red Hook doesn't have any... and one local dad aims to change that. Bert Moss has launched a crowdfunding campaign for Burnout Brooklyn, a 20,000-square-foot indoor play space. Find out about the project and if you're interested, throw him a few dollars and score sweet deals, like a first look at the spot once it opens.