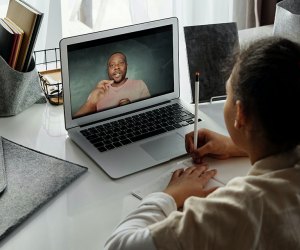 NJ Schools Get New Reopening Rules with Remote Start Option
Updated August 13 - Amid increasing pressure, the governor of New Jersey will allow individual school districts to initially choose 100% remote learning this fall if they are unable to meet health and safety standards. Previous school reopening guidelines from the state had directed all districts to offer some form of in-person learning.
"We recognize for some districts there are legitimate and documentable reasons why some of these core health and safety standards cannot be met on day 1," Murphy said on Wednesday, August 12. "For these districts today, we are reaffirming our commitment for districts to do what's best for their school community."
The governor has already said that any student or parent that prefers remote learning must be provided that option.
Murphy also declared that all New Jersey pre-K-12 public, private, and parochial schools, as well as colleges and universities, have the OK to reopen for in-person classes as long as they can meet state health guidelines. School districts are expected to submit plans to the state as to whether or not they can meet guidelines for reopening.
Schools that cannot meet "one or more" of the guidelines are expected to make "good faith" efforts to work toward reopening for in-person classes and to provide a date for that reopening, said Kevin Dehmer, interim commissioner of the New Jersey Department of Education.
The new health rules for reopening from the NJ Department of Health were released Thursday, August 13, and include specific guidance on social distancing and cleaning measures, but also a new color-coded risk assessment chart that can be used local health departments to determine when schools might need to close due to coronavirus. One scenario in the guidelines suggested closing schools for 14 days if two students in different classrooms test positive for COVID-19, but keeping them open (and removing the infected student and quarantining those exposed) if a single student tests positive or even two students in the same classroom.
In recent weeks, a number of New Jersey teacher unions, as well as several school districts, have pleaded for a remote-only start to the school year, citing health concerns, teachers who are opting out of in-person classrooms, and lack of funds to safely reconfigure classrooms and schools for social distancing requirements.
A coalition of New Jersey educator groups issued a strong statement on Tuesday in favor of all-remote learning this fall. The statement, from the New Jersey Association of School Administrators, the New Jersey Principals and Supervisors Association, and the New Jersey Education Association, cited health risks as a major area of concern.
"Reopening schools for in-person instruction under the current conditions poses too great a risk to the health of students and schools staff," the statement from The question of whether and when to reopen for in-person instruction is first and foremost a public health decision that cannot be left in the hands of nearly 600 individual school districts. The stakes are too high, and the consequences of a wrong decision are too grave. That is why we are calling on Gov. Murphy and the New Jersey Department of Education to direct all New Jersey public schools to open remotely this fall. We fully support and share the governor's goal of moving to in-person instruction as soon as the science and data say we can do so responsibly and when the resources are available in our school buildings to do it safely....

"We urge the governor to act quickly and decisively. We need the rest of the summer to focus our attention and resources on building the most effective remote learning plans possible.
Several large NJ school districts, including Elizabeth and Jersey City, have already said they will not open school doors this fall, opting to begin the year with remote learning only. Newark Mayor Ras Baraka offered the city's students a hybrid learning plan but then said, "At this rate, I wouldn't send anyone to school."
New Jersey's transmission rate was below the key benchmark of 1% as of Wednesday, making it one of the lowest in the nation, along with its Northeast neighbors. The state was wallopped by the virus in the spring, but with a cautious reopening plan that has left New Jerseyans stalled in stage 2 with water parks, playgrounds, and daycares operating but indoor restaurants shuttered, hospitalizations and infections have consistently trended down here while the virus rages across much of the country.
The vast majority of NJ school plans submitted to the state so far propose a hybrid plan with just a "select few," asking for full remote, Dehmer said.
The neighboring states of New York and Connecticut, which have at times coordinated their reopening plans with New Jersey, have cleared local schools to reopen for in-person classes. Many have selected a hybrid option, including New York City, the country's largest public school system, which combines online learning with in-person classes. To the south in Philadelphia, however, the school year will start online.
Earlier this month, the Centers for Disease Control and Prevention urged schools to reopen for in-person sessions if health conditions allow. But coronavirus outbreaks have plagued early school reopenings in August, especially in the south.