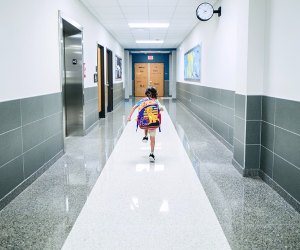 NJ Schools Expect to Reopen This Fall: 7 Things to Know
New Jersey plans to return K-12 students to physical classrooms as much as possible this September. Governor Phil Murphy, along with Education Commissioner Dr. Lamont Repollet, released a 104-page set of guidelines Friday, June 26, aimed at reopening New Jersey schools for 2020-20201 academic year.
"Absent a shift in public health data, school buildings will open in some capacity for in-person instruction and operations in September," said Repollet. "The reopenings of our schools will include necessary limitations to protect the health of our students and staff."
The guidelines insist on plenty of social distancing for schools, but also the option for a hybrid education model that would combine in-person instruction with remote-learning, or possibly students attending school on alternating days or weeks. All districts, however, must create a school reopening plan that includes some in-person instruction, the governor and commissioner said Friday. "There's no one size fits all approach," noted Murphy.
Murphy shuttered school buildings statewide on March 18, and NJ public school kids wrapped up their 2019-2020 academic year via remote learning this month. As the state has gotten infections from COVID-19 under control, it started reopening a number of its temporarily closed businesses and recreation spots but not schools. Summer camps in New Jersey are allowed to reopen July 6, while daycares reopened at reduced capacities in mid-June, giving working parents a bit of relief.
1. School Schedules and Remote Learning
New Jersey, like other states, is considering grouping kids into "cohorts," meaning small groups of kids who stay together throughout the day, including at recess and lunch, and may also attend physical school on the same days. Options include sending each cohort, which could be an entire grade, or two grades, of students, to school on the same schedule, while other students are at home for remote learning. Alternating schedules are suggested assuming that many schools will need to reduce the number of students in a building at the same time in order to maintain recommended social distancing guidelines of 6 feet between students and staff at all times.
Additional suggestions include one-way hallways, outdoor class sessions when possible, staggering school day start and end times for each "cohort," and reconfiguring all spaces and classes to maximize social distancing.
The school reopening guidelines point out that "Districts need to be prepared to pivot to remote instruction at any time during the 2020-2021 school year" in case the virus flares up again.
RELATED: Giant List of Virtual Summer Camps for Kids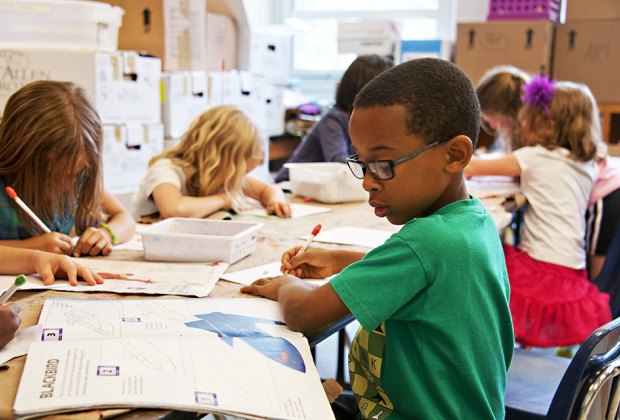 Rules will encourage 6 feet of distance between kids or face coverings to prevent the spread of COVID-19. Photo courtesy of Unsplash
2. Masks and Social Distancing Requirements
Updated August 13, 2020
Masks will be required for students, teachers, school staff, and visitors. Students are exempt from mask wearing in certain circumstances, including if a health issue or disability prohibits the use of a mask, or if the student is eating or engaged in high-aerobic activity (at 6 feet distance from others).
Six feet of distance is required throughout the school, which may require limited class sizes and reconfiguring desks or erecting physical barriers, the guidelines said. Social distancing rules will extend to bathrooms, recess, lunchtime, busses, and throughout the day. Sharing of various educational tools, toys, and books in the classroom is discouraged.
3. Health Screenings and Cleaning Protocols
Schools will be expected to screen all students and staff for any coronavirus symptoms upon arrival, and must adopt strict cleaning and disinfecting procedures, including paying attention to frequently touched surfaces and bathrooms, the guidelines said. Better air circulation, including open windows, is suggested, and building in more frequent handwashing breaks for students as well as placing hand sanitizer stations throughout the school are also recommended. Sneeze guards at reception desks might be warranted or other partitions.