New Indoor Play Space Catch Air Brings an Aquatic Vibe to Paramus
On a recent rainy Monday I wondered – as most parents do on cold, wet days at home with their kids – "What are we going to do today?" Of course, a visit to my daughter's favorite playground was out of the question. Then I remembered hearing about Catch Air, a new indoor play space that had recently opened in Paramus. I loaded my rain-slickered preschooler into the car and we headed up the Garden State Parkway. "Where are we going?," she asked. Turns out, we were headed on an aquatic adventure.
But instead of going to the ocean, we ended up under the Shop-Rite on Route 4 East. That's where you'll find this cool deep-sea themed indoor playground. Open only since August, Catch Air has already caught fire with parents eager to entertain the under-12 set. As the first Northeast outpost of the chain (with locations in Georgia, Texas, and Michigan), Catch Air Paramus has adventure to spare with tons of energy burners that cater to a mix of ages.
An enclosed play area at the center of the room is designed for small fries so they won't get run over. Play structures are low to the ground to give tiny tots the opportunity to practice crawling and cruising. There are giant turtle and whale climbers, a mini tugboat slide, an octopus seesaw, oversized blocks, and puzzles mounted on the back wall. Littles under 3 and 4 feet also have dedicated sections just for them along the right side of the gym, complete with a pastel-colored fish carousel and glittery pink stationary bikes so cute I wish I could transport them to my SoulCycle studio.
Step through an open shark mouth to enter the three-story gym that takes up the entire left side of the facility. It has all the favorites, from racing slides to trampolines and a fish climbing wall. The entire structure is padded and soft so kids can slide, bounce, and climb without hurting themselves. A replica of the giant floor piano from the movie Big invites tiny dancers to tickle the ivories with their socked feet. Interactive elements for the curious and energetic are sprinkled throughout the climbing structure, like the inviting ball pit that encourages kids to give it their best shot by pitching balls at the game screen.
Mazes, tunnels, and netted walkways take climbers up above the main floor, where they can walk the plank to Pirate's Battle, home to a huge ball rocket. Fill up the small green mesh bags with balls, dump them into the tank, and with the push of a button they pop up and fly through the air.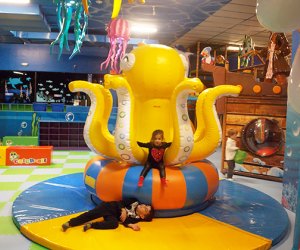 Take a spin on a giant octopus.
The aquatic theme continues outside of the play area, where a giant yellow octopus inflatable twirls around on the main floor, welcoming kids to jump on and take a spin. Up above, dangling jellyfish chandeliers cast a colorful glow across the room.
I couldn't imagine a better place for my daughter's next birthday party, and if Catch Air's party calendar is any indication, a lot of other parents agree. Party packages start at $32.99 per child and are held in one of three spacious party rooms. Each is equipped with kid-friendly seating, individual temperature controls, and a speaker to plug in your own party playlist. You can order pizza and cake through the venue or bring in your own food for an additional $75 fee. Parties include 40 minutes in the party room, plus a generous 80 minutes of playtime. The highlight is a glow-in-the-dark laser bubble dance party on the "Billie Jean" style dance floor that lights up when you step on it. Above it hangs a giant TV where you can display a photo slideshow of the birthday boy or girl.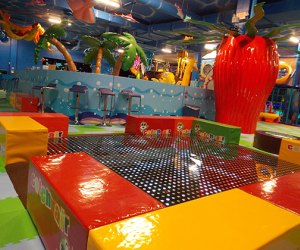 Birthday parties include a glow-in-the-dark dance party on this laser dance floor.
Small details show that Catch Air was designed with kids in mind, from the short cubbies near the entrance for stashing shoes and coats to the step stool in the bathroom, which is perfect for potty-training tots like my own. Even the hand dryer in the bathroom is placed low on the wall at the ideal height for little ones to reach.
Catch Air is open 7 days a week from 10 a.m.. – 7 p.m. Kids ages 1-3 and their parents are $9.99. Kids ages 3 and up are $19.99, and parents pay $4.99. The safety waiver is good for one year, and at your first visit you'll receive a key fob which can be scanned on subsequent visits so you skip right ahead to pay and play. While parents are usually free at most indoor play spaces, the admission fee does include all-day play, which is a nice perk since Catch Air does not have a kitchen and outside food is not permitted. Dry snacks – bags of chips, Rice Krispie Treats, and the like – are available for purchase, plus there are vending machines for cold water and soft drinks. But you can leave for lunch (or shopping!) at the nearby Bergen Town Center Mall or Whole Foods Market and come back for more.
With so much to do and play with and explore, kids won't get bored. Especially if your family includes a mix of ages. There's just as much in store for the little ones as there is for their older siblings, which sets Catch Air apart from other similar fun spots. It's easy to spend spend an entire day there – rain or shine – and I bet that your kids will be begging to come back often. And if my child is any indication, naps on the car ride home are pretty much guaranteed.
Top image: Catch Air's toddler zone is perfect for cruisers and crawlers. All photos courtesy of Catch Air.