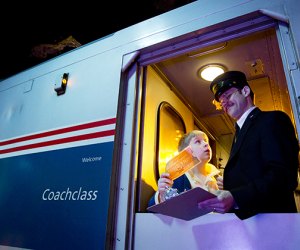 New Polar Express Train Arrives in NJ this Holiday Season
There's a new train chuffing into Whippany Station this Christmas season: Holiday revelers who want to ride the rails can hop aboard The Polar Express. This train ride will replace the Santa Claus Special, which has been run by the Whippany Railway Museum for the last 24 years. The Polar Express will be operated by the Morristown Erie Railway.
And don't worry – if you're not quite ready to think about Christmas just yet, there's still plenty of fall fun to be had throughout New Jersey.
The Polar Express ride has become a hugely popular holiday activity in recent years, with train rides happening across the country. (NOTE: Tickets sell out fast! The Polar Express operated out of Phillipsburg, NJ, is already sold out.)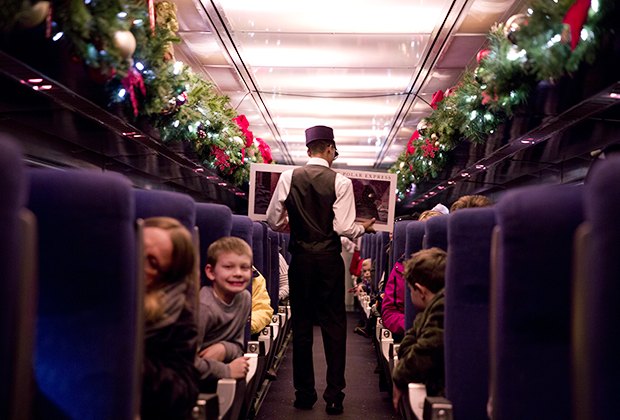 The Polar Express train ride includes a reading of the story.
The ride is modeled after the classic children's book by Chris Van Allsburg, in which a young boy boards a mysterious train and ends up in the North Pole, where he meets Santa.
The hour-long train ride includes a reading of the book, caroling, and hot chocolate and cookies served by dancing chefs. Santa Claus will board the train upon its arrival in "the North Pole," and he will give each child a silver sleigh bell, just like the one the boy receives in the book. Santa will also be available for photo ops after the train ride.
Young riders are encouraged to wear their pajamas – like the children in the book – and they should feel free to bring their own copies of The Polar Express to read along during the ride.
The Polar Express in Whippany will run Fridays, Saturdays, and Sundays from November 25 – December 30, with the exception of Christmas Eve and Christmas Day. Tickets are $39 (coach) – $49 (first class) for kids and $49 (coach) – $75 (first class) for adults. Children under 2 ride free. Passengers should plan to arrive an hour early; boarding begins a half hour prior to departure.
And if you're really thinking ahead: The Whippany Railway Museum is closed for the winter but will reopen in the spring, just in time for the Easter Bunny Express.
Photos courtesy of Rail Events Inc.