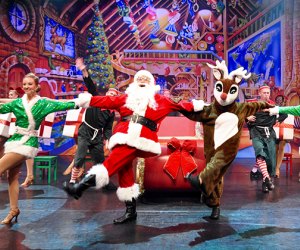 Best Non-Nutcracker Holiday Shows for Kids in New Jersey
New Jersey is home to some of the highest quality theater this side of Broadway, and the holiday offerings are no exception. This
holiday season
boasts some wonderful family-friendly shows, including drama, comedy, music, and dance. If you're looking to expand your holiday theater-going beyond the usual
Nutcracker
fare, this list is for you.
​November 11–13 and 18–20
The classic movie can now be seen in a new, musical version. Set in 1940s Indiana, the musical follows Ralphie as he counts down the days till Christmas with his wacky family and friends. All of your favorite moments from the movie are there on stage, complete with Broadway dance numbers and an original score. Perfect for families with elementary age and older children.
November 27
This charming and whimsical holiday musical for kids tells the story of Mooseltoe, a moose who dreams of flying with Santa's reindeer. Featuring original songs and costumed characters, Mooseltoe is all about following your dreams and the discoveries you make along the way. The hour-long show is recommended for ages 4–10.
​December 2
This celebrated adaptation of Dickens' tale includes traditional Christmas songs such as "God Rest Ye Merry Gentlemen" and "Away in a Manger." The production features a large cast, live musicians, and Broadway-style costumes and scenery, and is recommended for ages 5 and up.
December 2–4
This modern-day Christmas classic tells the hilarious tale of Buddy, a young orphan child who mistakenly crawls into Santa's bag of gifts and is taken back to the North Pole. Based on the 2003 film by the same name, this splashy show was hailed by Variety as "happy enough for families, savvy enough for city kids, and plenty smart for adults!"
This concert version of the beloved Muppets movie will be sung by some of Broadway's best, including performers from Les Misérables, If/Then, and Wicked. The performance will include Paul Williams' festive and funny score, plus some extra songs that didn't make it to the big screen. While this concert is great for kids of all ages, please note that the Muppets characters do not appear in this performance.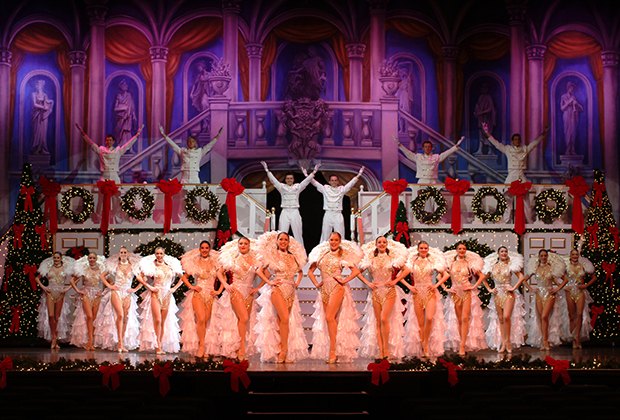 Broadway Christmas Wonderland: The Holiday Show features high-kicking chorus girls.
​December 4
This family-oriented Christmas spectacle has it all: a dazzlingly large cast, glittering costumes, and high-kicking chorus girls. Santa and his merry helpers are here to entertain and take the audience on a nostalgic trip that includes holiday favorites like "White Christmas," "Jingle Bells," and "Winter Wonderland."
Presented by Theatreworks USA, Frosty is a new tale inspired by the classic song. In this production, an orphan named Billy joins Frosty on an adventure through New York City, where they discover that the real magic of the season is love. Recommended for kids in grades K–5.
This reimagined production of the Dickens classic begins the moment you walk in the doors, when you mingle with ensemble members in the lobby. The community-focused production will feature members of the Princeton community and will include special events such as wreath making, pre-show parties, and even a drama workshop for kids. Recommended for ages 4 and up.
The Laurie Berkner Band: A Holiday Celebration Concert at Bergen PAC – Englewood
December 11
Best-selling and kid-approved children's recording artist Laurie Berkner invites families to get in the holiday spirit in the best way – through music! This concert will feature traditional, secular songs such as "Jingle Bells" and "Frosty the Snowman" as well as original songs and hits from Laurie's well-loved albums. Kids should plan to wear their dancing shoes and be prepared to sing along.
​December 14
​This world-renowned a cappella group will perform an eclectic mix of Jewish, American, and Israeli songs. Recently, the Maccabeats have emerged as both a Jewish music and a cappella phenomena, with more than 20 million YouTube views and guest appearances at both Gracie Mansion and the White House. A wonderful family concert, perfect for a pre-Hanukkah celebration.
December 17
Families can celebrate the Nguzo Saba at NJPAC's 18th annual Kwanzaa children's festival and marketplace, a free event that includes music and dance activities celebrating the rhythms and cultures of Africa. There will also be a special tribute to Cuba, this year's Country of Honor. Also in observance of Kwanzaa, Forces of Nature Dance Company will perform its singular blend of modern dance, West African movement, ballet, hip-hop, and martial arts in the Victoria Theater, featuring special guests Les Nubians.
Tickets
must be purchased for the dance performances.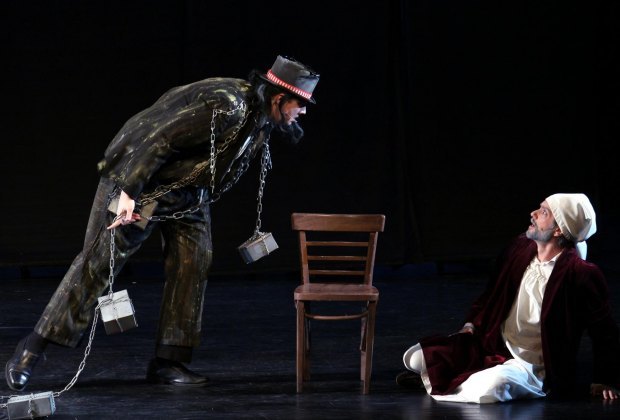 A Christmas Carol at Bergen PAC is an abridged production that's perfect for young children.
December 18
This one-hour, family friendly musical version of the Dickens story is perfect for families attending with young children. A child from the audience will be chosen to play Tiny Tim, and kids can take a picture with Santa after the show.
A Charlie Brown Christmas at the Wellmont Theater – Montclair
December 22
The classic animated Christmas special comes to life in this stage musical. The show features all of Vince Guaraldi's music from the show, as well as Linus, Lucy, Charlie Brown, Snoopy and the whole Peanuts gang.
Top image: Broadway Christmas Wonderland. All photos courtesy of the theaters/productions.